Review blog
Click here for the ReadPlus Review Blog RSS feed. Copy the link location into your feed reader.
Click here to see all reviews
Nov 22 2017
Tintinnabula by Margo Lanagan and Rovina Cai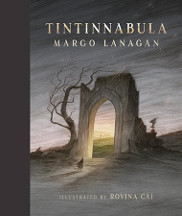 Hardie Grant Egmont, 2017. ISBN 9781742975252
(Age: 10+) Recommended. In this picture book for older readers, Margo Lanagan takes a young woman on a journey to Tintinabula in times of stress and distress.
In wild times and in wartime,
in times of fear and illness, I go
to Tintinnabula, where soft rains fall.

Tintinnabula is a story about moving from discomfort to peace,
from violence and uncertainty to a still, sure place.
It reminds us that our best friend in hard times
can often be ourselves. (Back cover)
The reader is carried along with the young woman in the story as she flees the vision of monsters in a red background. She moves through windswept trees, past ruins and devastated lands until she finally reaches a quiet place where the grass is green and silver rains fall. The term Tintinabula means small tinkling bells and the young woman follows their sound to find that final good place that she needs.
Rovina Cai has produced memorable illustrations which swirl and twirl, brilliantly showing in reds the fear and need of the woman as she tries to find a peaceful spot to rest from the violence that surrounds her. This locale is depicted in greens and pale yellows, and the end paper finally has a glow of brighter yellow, leaving the reader with the notion that things can be brighter.
The idea that people in trouble can find a peaceful place within themselves is one that will resonate with readers and will be a comfort to those who are having problems, be they ones of mental illness or of war and violence. The ideas are complex and the book would be best suited to adults and teens or used by an adult with upper primary children.
Pat Pledger
BUY IT ON
Nov 22 2017
A tangled tale of tagliatelle by Yves Stening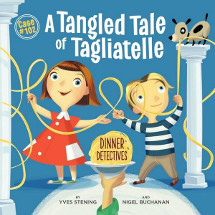 Ill. by Nigel Buchanan. Dinner Detectives series. PublishCreative books, 2017. ISBN 9780648008712
(Age: 4+) Recommended. Themes: Humour, Pasta, Italy, Marco Polo. Clementine and her little brother, Aksel love food, and when a new girl, Sophia, moves into the street, they play football with her. She asks them to lunch and once inside her house, find that her father is making pasta.
When the children ask where pasta comes from this gives rise to the Dinner Detectives sleuthing the answer. In a bright and breezy style, the story of pasta coming to Italy and being developed as the food for which Italy is known unfolds.
From the funny map of Italy, showing its resemblance to a boot, with the main town of Bologna clearly shown, the story of Marco Polo and his eventful journey to China hundreds of years ago is told. One of the things he brought back to Italy, were the noodles eaten by the Chinese people. Once back home in Italy, the idea of noodles took on a life of its own, and the basic pasta was expanded from the plain long strings to all different shapes and sizes.
Any child reading this book will learn the story of pasta and its association with Italy and they will want to try the recipe for themselves, handily included at the end of the book. Through the book, readers will see how pasta is made as Sophia's father uses his pasta machine. They will see the different types of pasta and be able to learn their names, and be intrigued by the journey of Marco Polo.
This is the second in the series called Dinner Detectives, the first being, A fearsome beast and a dumpling feast by the same authors.
Fran Knight
BUY IT ON
Nov 22 2017
The cute friend by Kim Kane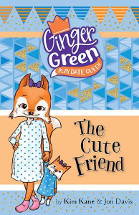 Ill. by Jon Davis. Ginger Green, Playdate queen series. Hardie Grant Egmont, 2017. ISBN 9781760129613
(Age: 5-8) Recommended. Themes: Friendship. Problem solving. Ginger Green is the playdate queen but runs into trouble when she spends time playing with new school friend Daya. They get on well but when they go into the kitchen they find that baby of the family remains nude while everyone else is clothed, the reason Ginger thinks Daya is cute, becomes obvious. Daya's smallness is pointed out as each of the girls liken her to the baby's size and stature, wanting to lift her as they would the baby. Daya is unimpressed. This happens several more times, Daya's size and therefore cuteness being commented upon until she takes a stand. 
Ginger is a most resourceful young girl and runs to her room to bring out her dolls and plays with Daya and her dolls until the problem is smoothed over.
This is a gently humorous story that will appeal to children who are just moving from picture books to chapter books. The dilemma of a misunderstanding looms large until the problem is solved neatly and in a way that would give children hints on how to handle difficult social situations.
 Readers who enjoyed this will be happy to find other books about Ginger Green and will delight in the cute illustrations of the little foxes in clothes (except for one!)
Fran Knight
BUY IT ON
Nov 22 2017
Sky by Ondine Sherman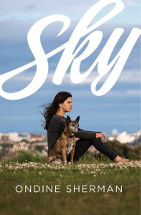 The Author People, 2017. ISBN 9781925399189
(Age: 14+) Everything happens so fast for Sky after the death of her mother. She leaves her home and friends in the city to live in the country with an aunt and uncle she barely knows and suffers the anguish of trying to fit in at a new school.
When Sky moved to the country, she wanted to fit in, to belong and find a place. This meant sacrificing and putting on hold some of her beliefs until she could find her personal comfort zone, in both her new family and at school. When she began to feel that life was settling into a rhythm she could cope with, Sky becomes overwhelmed by challenging emotions at the same time as taking a stand against animal cruelty.
I tried to empathise with her because losing your sole parent and leaving your childhood home and friends is horrendous, but I found the character that Ondine Sherman had created emotionally under-developed. The character was not written with enough realism for me so I felt Sky's erratic moments were too far-fetched to make the story an enjoyable and believable read.
All this being said, Ondine Sherman has a comfortable and easy writing style and there are important messages Ondine wants to share about family, coming of age, standing up for what we believe in and love . . . love of yourself, love of family and the awkwardness of young romance.
This book will open your eyes to the lengths businesses will go in making profit but unfortunately I felt that the author had a point to make and was forcing me to accept this point of view instead of letting the story help the reader come to the same realisation. Ondine Sherman is a dedicated to the protection of animals and passionate about promoting respect and compassion for all creatures. In Sky, Ondine has woven special mention of one of Australia's leading animal protection groups, Voiceless, founded by Ondine and her father in 2004; and Franimals, Ondine's social-media platform, a popular community for animal-loving teens across the world. For extension activities there are teachers' resources at Allen and Unwin.
Sharon Smith
BUY IT ON
Nov 22 2017
Koala Bare by Jackie French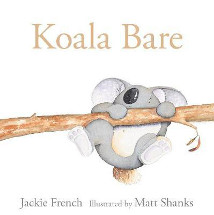 Ill. by Matt Shanks. Angus and Robertson, 2017. ISBN 9781460751619
(Age: 4-9) Koala Bare is the latest book from the excellent author of the Diary of a Wombat series, Jackie French. It follows the tale of a koala who is trying its best to convince the bird (that I figure is on the committee for the provision of actual bears) that it is actually NOT a bear - like most people thought. Each page shows another type of bear and why Koalas don't fit into the category. I love the illustrations by Matt Shanks, he uses water colours that stand out on the white background and draw your eye into the funny happenings of the bears around them (I personally like the fishing polar bear and the panda bear at the bamboo restaurant).
The rhyme is nice and short, and uses coloured and enlarged text to enable the reader to add sounds, tone and expression to the story. This book could very easily be used as the centrepiece for learning around bears/animals/Australian animals, habitats, homophones, text types and rhyming. I think it would be a wonderful resource for a reception class to use and study.
This book could also be read to children up to the age of 8 or 9. Overall this is another great title in the Jackie French collection that will be on the shelves of many libraries and in many homes in the near future!
Lauren Fountain
BUY IT ON
Nov 20 2017
M is for mutiny: History by alphabet by John Dickson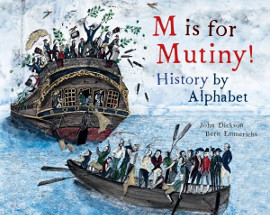 Ill. by Bern Emmerichs. Berbay Publishing, 2017. ISBN 9780994384119
(Age: 7+) Recommended. Themes: Australian history. Aboriginal themes. First Fleet. A different view of Australia's history is presented in this intriguingly illustrated picture book, with information to hold readers' attention and drawings that will make the eye linger on each page.
An alphabet book, the first double page entitled, 'A for Acknowledgement', is devoted to the first people who lived in this land. Following is 'B for Banks the Botanist' who accompanied Captain Cook in his explorations of the southern lands. The text gives information about this scientist and his place in our history while the illustrations shows some of the plants he is known for, adapting the local Aboriginal name for their classification. And 'C is for Captain Cook', while 'F is for First Fleet', 'M for Mutiny', 'R for Rum Rebellion', 'S for Sheep', so offering few surprises with information given about known events in Australia's early history. Where this departs from the expected is the emphasis given on how the indigenous people were affected by this incursion. So we have 'L for Land Rights', 'Q for Questionable Acts', 'T for Terra Nulius', 'U for Uproar', and 'Y for Yemmerawanne', while several of the other pages include information about Australia's Indigenous population.
An alphabet book trying to achieve a 'history by alphabet' is by necessity very selective, having only 26 headings to use, but this book has selected a number of events normally not included in history books, so offering a differing view of our past, one which readers will recognise alongside learning something new.
Told in a chatty style, each paragraph is enough to engage and delight while offering snippets of funny information kids love to read.
References to other events, for example Mabo, gives readers something more to research, while some themes - Women, Crime and punishment, Treatment of the Indigenous people - will impel readers onto to fields beyond this book.
The startling illustrations were developed by painting onto ceramic tiles which are then photographed. The detail is astounding and infectiously fascinating, the detail quite extraordinary, making this a book to pore over. The naive style is reminiscent of early pottery. The endpapers list all the people of the First Fleet, some named, most left with a number, underlining the lack of importance given these people by those who sent them to Australia. In a classroom, it would be fun to envisage what the students would have included as their letters.
Fran Knight
BUY IT ON
Nov 20 2017
My magical life by Zach King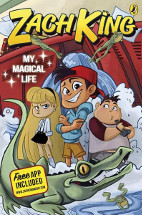 Puffin Books, 2017. ISBN 9780141387574
(Age: 9+) Highly recommended. My magical life is a new series by author Zach King and he also just happens to be the star of the book. Zach is 11 years old and comes from a magical family. The opening pages of the book are like a photo album, showing colourful, cartoon style pictures of the characters you will meet throughout the story. Zach is in year 7 but is homeschooled. He has the chance to attend public school when his parents realise he might not have magic like the rest of his family. They hope a change of scenery might help Zach find his special magic object and then his magic.
When a magic trick at school brings Zach to the forefront of popularity, his path crosses mean girl Tricia. Zach doesn't even know how he did it but it is all over social media. Thankfully, Zach makes quick friends with Aaron and together they try and use Zach's magic to become more popular. When Zach discovers two caps that help him channel his magic, hilarious moments and detentions occur. Can Zach get back at Tricia and teach her a lesson? What does a locker full of chocolate pudding and an alligator in the principal's office got to do with it all?
My magical life is an excellent mix of drama and comedy. It is a novel with comic style images and readers will related to Zach's issues and life at school. They will get a laugh out of Zach's antics and the text will engage readers throughout the story. Zach is a great role model for children - a bit naughty, a good son, a good friend and all about being supportive to everyone. My magical life is highly recommended for boys aged 9+ but will be enjoyed by all readers.
Kylie Kempster
BUY IT ON
Nov 20 2017
Agent Nomad: Deadly magic by Skye Melki-Wegner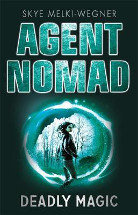 Random House Australia, 2017. ISBN 9780143780403
(Age: 14+) Deadly magic is the second book in the riveting Agent Nomad series by Australian author Skye Melki-Wegner.
I was impressed by Skye Melki-Wegner's first book in this series, confident that the next book would see the author honing her writing skills. In the first of the series, The eleventh hour, my enjoyment was minutely affected by the momentum of the story and the minimal character development. These downfalls were not evident in this second book. Deadly magic provides more insight into the characters and skilful technique in allowing events to build the story.
Our feisty and independent protagonist, Natalie Palladino, is nearly 16 years old now, and she has found a growing strength in her role as Nomad, a rare witness in the world of magical secret agents known as HELIX.
After the exciting adventure and personal discoveries of the London mission in The eleventh hour Nomad, Riff, Phoenix and Orbit are itching to leave training behind and go out into the field again. Their chance comes when all the cadets are sent to New Zealand for their annual camp and our team is put in charge of investigating a mysterious death with strict instructions to not get involved. After solving ingenious clues, the cadets find communication with their senior supervisors compromised and, being isolated from help, they now have crucial decisions to make.
Skye Melki-Wegner cultivates the teen topics that were touched on in The eleventh hour. We see how the team has further developed their skills in collaboration, not just within their own close-knit group but by allowing others to influence and guide their choices. A fast read with gripping adventure and compelling friendships. Once again there is a twist to the plot I did not see coming and I look forward to the next instalment.
Sharon Smith
BUY IT ON
Nov 20 2017
Undercover princess by Connie Glynn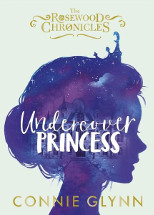 Rosewood Chronicles book 1. Penguin, 2017. ISBN 9780141387567
(Age: 11-14) Themes: Fantasy. Boarding school. Princesses. Connie Glynn's debut novel Undercover princess takes inspiration from her love of Disney princesses and their stories. She shares this on her popular Noodlerella vlog and YouTube channel. This fantasy adventure story uses recognisable Young Adult literary tropes, well-known character types and settings, typical plot points and twists, and the prescient struggle of good and evil. Her familiar settings include an elite boarding school with its secret magical qualities and the old bakery where the orphan protagonist lives with her uncaring stepmother. Of course, there is a defiant princess from the magical kingdom of Maradova, who rebels against her royal destiny allowing Lottie to fulfil her dream of being a princess.
Lottie Pumpkin has studied incredibly hard to win a bursary to prestigious Rosewood Hall in spite of her difficult home life. Before her death, Lottie's mother has instilled in her a sense of self worth, with the mantra "I will be kind, I will be brave, I will be unstoppable." Meanwhile Princess Eleanor (Ellie) Wolfson of Maradova, finally has been allowed to leave her own country and attend the same school, in fact she is Lottie's roommate. Following a huge mix-up, Lottie takes on her royal role allowing Ellie to enjoy a normal life. There are the familiar highs and low of school life, friendships, bullying, secret messages to solve, as well as a quick trip to Maradova for Lottie to take on the role of portman, or undercover princess.
The text ranges from simplistic to extremely expressive, while the characters need more depth and back-story. Several scenes are somewhat confronting and more suited to a teen audience. This novel is the first in the Rosewood Chronicles series written for young teen fans that enjoy the fantasy genre.
Rhyllis Bignell
BUY IT ON
Nov 20 2017
Don't spew in your space suit by Tim Miller and Matt Stanton
HarperCollins, 2017. ISBN 9780733334672
(Age: 5+) Don't spew in your space suit' is another bodily function picture book by Tim Miller and Matt Stanton (who also bring us the There is a monster... who farts series) that is sure to delight young children who thrive on all things gross! The book follows the story of an astronaut who is looking for life on Mars but unfortunately has a queasy tummy and doesn't take too well to space travel. The rhyme is fairly easy to follow, and makes for a good read aloud story - especially as there are often responses of 'yuk!' 'Eewww!' from the audience. I read this book to a group of reception boys. Their reviews range from "I think this book is funny, because it makes me laugh" and "It was pretty good, and I liked the bit where he had to wipe vomit off the windscreen" to "The book was silly, and the pictures and words were silly and I didn't like it". The majority of children who I read this book to thought it was hilarious, disgusting and good to listen to. Not for those weak of stomach, or in a bad mood!
Overall it gets 3/5 for its disgusting yet funny theme, and its bright and engaging illustrations. Best read to children who will understand the concepts of spew, space travel and aliens - 5 years and above.
Lauren Fountain
BUY IT ON
Nov 20 2017
Mrs White and the Red Desert by Josie Wowolla Boyle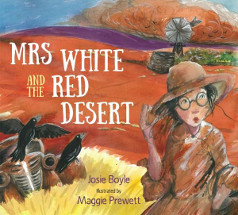 Ill. by Maggie Prewett. Magabala Books, 2017. ISBN 9781925360578
(Age: 3-7) Highly recommended. Themes: Aboriginal life, Culture and identity, Australia - Social life and customs. Magabala Books continues to publish an excellent range of indigenous stories, perfectly suited 'to providing an opportunity for all young Australians to gain a deeper understanding and appreciation of Aboriginal and Torres Strait Islander histories and cultures'. ACARA. Mrs White and the Red Desert is an engaging and colourful story reminiscing about the author's childhood. They lived in the red, sandy desert 'in a corrugated iron house that was wavy and buckled and bent just like our grandmothers hair.' The children played in mud and drew in the rich red sand. She remembers higgledy-piggledy houses and gardens, the hot winds blowing through the nail holes and wooden shutters.
This is a gorgeous sensory story, the changing weather having an effect on her family, the rain's soft pitter-patter on the tin roof and cold night winds racing through their house. Josie Wowolla Boyle's imagination turns to humour when the early morning crows clatter across the rood dressed for shopping.
Mrs White their teacher expresses concern when the children's homework is handed up, each page is grubby and covered in red dust. Her visit to the children's desert house proves enlightening, the house is cleaned, the table set and their homework cleaned with slices of bread, however only grandmother is watching the skies. Mrs White in her pristine clothes and hat is caught in the wild sandstorm and everything inside and outside the house is covered in red dust, even their teacher.
Josie Wowolla Boyle's beautiful evocative story includes gorgeous imagery and rich language and Maggie Prewett's vibrant watercolour illustrations perfectly build the sense of place and drama. Earthy tones with bold sweeps of red and white add depth to this childhood memory. Mrs White and the Red Desert is a wonderful book to share with a young audience, my Reception History classes delighted in the alliterative text and vibrant images of the crows on the roof decked out in hats and high heels. A perfect picture book to inspire art lessons, to encourage children to write stories of their own childhood and to explore the concepts of aboriginal heritage and connection to country.
Rhyllis Bignell
BUY IT ON
Nov 20 2017
Under the cold bright lights by Garry Disher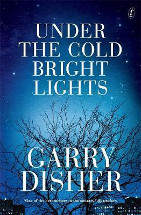 Text Publishing, 2017. ISBN 9781925498882
(Age: 15+) Highly recommended. Mystery and suspense. Alan Auhl works for the cold case department, after retiring from Homicide years before. He lives in a large old house with a random selection of boarders and people who need his help. At work he juggles an assortment of cases, including the body that was buried under a concrete slab and the death of John Elphick, whose daughters are convinced that he was murdered, as well as investigating the slick doctor whose wives have a habit of dying. At home he is supporting a woman who has fled with her 10 year old daughter from domestic violence and who is facing the Family Court in a fight to limit her estranged husband's access to her daughter.
The reader is taken on a breath taking ride as Auhl juggles all these complex cases as well as his feelings for his ex-wife and the taunts at work about being old and putting up with the nickname of Retread. He just gets on with the job. Disher captures the attention of the reader with a description of a snake in the backyard of a young couple and the subsequent revelation of a skeleton under the concrete where the snake has taken refuge. The other cases are just as complicated and Disher manages to keep all the plots interesting, with many twists and turns and some surprises as well about the way some of the villains meet their come-uppance.
This is a stand-alone novel, but I hope that Disher continues to write about the unforgettable Alan Auhl. His characters, vivid prose and settings are wonderful.
Pat Pledger
BUY IT ON
Nov 20 2017
Zombie's Birthday Apocalypse by Zack Zombie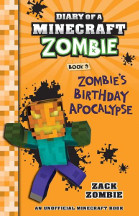 Diary of a Minecraft Zombie book 9. Scholastic, 2017. ISBN 9781743818350
(Age: 7-9) Themes: Zombies, Friendship, Birthdays. The popular fan fiction series continues with Zack Zombie's preparations for his epic thirteenth birthday party. His birthday falls on Halloween making it an extra special celebration. With his plans to host a Larry Snotter party, Zombie realises that he needs to find a job to finance his expensive costume. On Tuesday when he tries to find his human friend Steve to discuss his party, he has disappeared. As he checks out the nearby woods, Zack observes a strange occurrence amongst the other villagers who are walking around with large pumpkin heads.
With his neighbourhood preparing scary Halloween decorations in their front yard, Zack helps Old Man Jenkins with his old Zombie horse. Mr Jenkins' old bones keep falling apart and he offers him a job grooming the horse. With a competition for the scariest costume at school, talk of a Zombie Apocalypse, the mob villagers disappearing and trying to organise his birthday party, Zack is keeps busy. The final scenes of saving the mob of pumpkin head villagers using the school oval sprinklers and Ursula the Witch's potion prove exciting for Zack and his friends.
Zombie's Birthday Apocalypse is a fun junior novel, packed full of familiar characters, Minecraft images and the strange lives of Zack, his family and friends. Humour, grossness, body jokes and plenty of Minecraft activities are just right for the fans of this popular series.
Rhyllis Bignell
BUY IT ON
Nov 20 2017
Terrortide by Michael Adams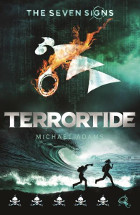 The Seven Signs book 6. Scholastic, 2017. ISBN 9781743628065
(Age: 13+) Recommended. Themes: Adventure; Danger; Sydney, Australia; Futuristic adventure. Book 6 in the Seven Signs series is as terror and suspense-filled as the previous five books in the series. The young DARE award winners are yet again plunged into horrific circumstances as they race to save the World from the actions of the Gamemaster. This unknown and mysterious figure has sent more images to solve via their hi-tech futuristic communication devices, and impels all of the seven teens into more life-threatening scenarios - this time with Sydney, Australia as the potential target. With one catastrophe leading immediately into another, it is not surprising that they author ends this penultimate book of the episodic series on a cliff-hanger ending (or perhaps more accurately - hanging on by our fingernails).
Readers will be desperate to find out what comes next (very clever marketing strategy!) and solving the ultimate puzzle as to who is behind this reprehensible series of awful events, and to see whether the young teens can be heroic yet again and save the world from destruction. Or is it too late?
Recommended to adventure junkies aged 13+.
Carolyn Hull
BUY IT ON
Nov 20 2017
Crimewave by Michael Adams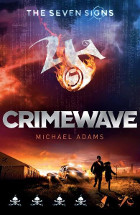 The Seven Signs series book 5. Scholastic, 2017. ISBN 9781743628058
(Age: 13+) Recommended. Themes: Adventure; Risk; South Korea; Colombia; Information; Futuristic Crime. With one twist after another, the seven DARE award winners are thrust again into life-threatening scenarios in the fifth exciting book of the Seven Signs Series. The action picks up where it left off in book 4, with the teenagers in RoboWorld Theme Park in South Korea. With out-of-control robotic attackers still advancing and the clock clicking closer to imminent destruction, five of the intrepid teens must face their own fears and the threat of their own demise to save the country. Meanwhile, Mila and Isobel are in Bogata, Colombia, and they become embroiled in the plans of a criminal heavyweight. They too are in imminent danger.
With a one page introduction or summary of previous events in the series, the author launches into action. No time to draw breath! Consequently this is mostly suited to readers who have been waiting breathlessly to find out what might come next. And again, the author leaves the reader dangling at the end of the book with a closing cliff- hanger . . . Ready for the next exciting adventure to save the world.
Recommended for action lovers aged 13+.
Carolyn Hull
BUY IT ON
Nov 19 2017
Ava's big move by Mary Van Reyk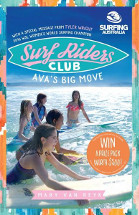 Surf Riders Club series. Hachette Australia, 2017. ISBN 9780734417909
(Age: 10+) Highly recommended. Ava's Big Move is the first book in the series Surf Riders Club and has been created in collaboration with Surfing Australia.
A new beginning and a move for a dream to come true sees Ava unwillingly move with her family to a beachside town. She can't go on the yearly snowboard trip and she is leaving her best friend. Ava's first day of school and subsequent weeks end up being amazing thanks to new friends and the discovery of liking surfing. Now, Ava just needs to figure out if she has the skills to move to the next level in surfing lessons. Can she catch the five waves or will she be left behind? Through her surfing journey, Ava realises the move to a new town is pretty good. She is spending time with her older brother , seeing her parent's dreams come true and surviving high school.
Ava's Big Move is a great, positive story about new beginnings and everyday life. Even better, it is set in Australia. The themes of resilience, persistence and accepting others are strong throughout and Ava and her friends are strong role models for girls. The vocabulary is easy to read and understand. It might even inspire readers to create stories about their own adventures. highly recommended for girls aged 10+.
Kylie Kempster
BUY IT ON
Nov 17 2017
Molly the pirate by Lorraine Teece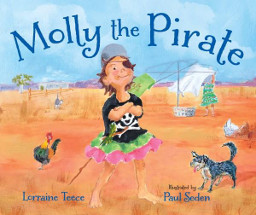 Ill. by Paul Sedden. Magabala Books, 2017. ISBN 9781925360660
(Age: 4+) Highly recommended. Themes: Pirates, Central Australia, Aboriginal themes. The wonderfully spontaneous Molly lives a long way from the sea, and yet dreams of being a pirate. With mum in the background trying to hang out the washing on a very blustery day, Molly dons her eye patch, pirate hat and sword. She rows out to the pirate ship and there challenges Captain Chicken, but is made to walk the plank.
She somersaults across the deck, outsmarting the crew made up of other chickens and the cat, until the crew is so dizzy they feel the need to lie down for a while. She climbs the rigging and comes back to the deck to eat with the crew members. They then turn the ship for shore and Molly returns home, certain that there will be more adventures. A delightful story of the risk taking Molly and her pirate crew, readers will love to see how she reacts once on board the pirate ship, and love reading of her interaction with the crew.
And the illustrations are just magical, with Seden using common kitchen items on each splendidly vibrant page. Young readers will love searching them out and laughing at the way the illustrator has used each in his drawings, while the background of inland Australia underscores its distance from the sea. Each page is a delight and I loved the way Sedden has used differing perspectives, challenging the reader to work out where they are.
Fran Knight
BUY IT ON
Nov 17 2017
Force of nature by Jane Harper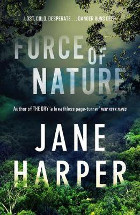 Aaron Falk book 2. Macmillan Australia, 2017. ISBN 9781743549094
(Age: 15+) Recommended. Mystery and suspense. Aaron Falk returns in the second of Jane Harper's mysteries, following her best-selling The dry. This time partnered with Carmen Cooper, they are investigating a family company, BaileyTennants, which is suspected of money laundering. His whistle blower, Alice Russell, has promised to give them the documents to prove the case, but she turns up missing after a team building bush walk in the rugged Giralang Ranges. Five women from the company walked into the bush and only four returned.
The action and the setting keep the reader riveted. Told in alternative chapters, Harper describes what is happening on the bushwalk and the direction that Falk's investigation into Alice's disappearance is taking. The Giralang Ranges provide a dark and frightening background and when the women take a wrong turning and become lost there is not only the never ending sameness of the bush to contend with but the lingering fear that once a serial killer and his son roamed this wilderness.
Harper brings alive the characters of the five women: there is Jill, daughter of the patriarch of the family company and nominally in charge of the group; Alice Russell is self-centred and nasty but committed to her daughter; the twins Bree and Beth constantly bicker and Lauren is a self-effacing woman who lacks confidence. As the members of the group try and find shelter and the way home any group cohesiveness is lost and old wounds are opened with often nasty results.
Family dynamics are vividly described. Lauren's daughter is suffering after being brutally bullied at school. Alice's daughter who goes to the same school, is also experiencing problems with the son of the company's director and these complexities add a depth to the story and the reader's feelings about the main characters.
The reader is never certain if Alice is still alive and has just chosen to disappear or if she has been murdered by a group member or someone following them in the bush. This suspense is kept up until the very end when there is a very satisfying denouement.
This is a worthy follow-up to The dry and I look forward to reading about Aaron Falk's future investigations.
Pat Pledger
BUY IT ON
Nov 17 2017
Cinderella by Jane Ray
Walker Books, 2017. ISBN 9781406377842
(Age: 4+) Recommended. Diorama, Theatre, Classic tale, Fairytale. A three dimensional representation of the classic tale of Cinderella is offered within the covers of this book in six pop up dioramas. Each double page presents a scene from the fairy tale, with side flaps giving the story, and the central offering a diorama of the action presented in the text. In the first diorama, we hear of Cinderella and her two lazy stepsisters. We see Cinderella sweeping in the kitchen while her stepmother and stepsisters lounge about, in an adjacent room preening, drinking tea and eating cake. They are magnificently dressed, whereas Cinderella is dirty and disheveled. The page is cut out so that the action stands out from the background. Through the cut out foreground we can see into the garden beyond.
Each double page is full of interest, and children will read the text eagerly looking at the picture presented, searching out the details of the story.
The book is subtitled, A Three-dimensional Fairy-tale Theatre, and the side flaps are like curtains opening on the scene presented, making the viewer's eyes focus on the opening of the stage curtain and what is then revealed.
A different outing for the classic tale will be eagerly used by young careful readers.
Fran Knight
BUY IT ON
Nov 17 2017
Stitches and stuffing by Carrie Gallasch and Sara Acton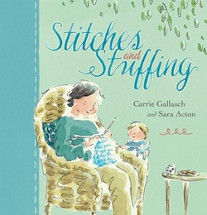 Little Hare, 2017. ISBN 9781760127787
Wherever Adeline went, so did Bunnybear. They had been together since forever, never apart. He was soft and cuddly, his ears and legs wibbling and wobbling and he flipped and flopped along. He even had his own seat at the table for morning milk and biscuits with Nanna. Bunnybear was her best friend and she didn't feel right without him. Until one day, Bunnybear accidentally got left at the beach. Caught in a tug-of-war between a curious seagull and Adeline's puppy, poor Bunnybear was destroyed and Adeline was distraught. That night there was a Bunnybear-shaped empty space in her bed and she felt very alone.
Next day Nanna sat in her knitting chair and made a new Bunnybear for Adeline. But this one wasn't the same. It was too stiff and straight and no matter how Adeline squished and squashed him, he felt like a stranger. And so he sat on the shelf, hard and still like a statue. But then, one day Nanna had to go away for a while and with no milk and biscuits for morning tea, and no sitting in the knitting chair with her, the days became long and quiet. And then Adeline remembered . . .
This is a soft and gentle story, illustrated with the soft and gentle palette and the soft and gentle lines of watercolours, that will remind all readers, young and not-so of their favourite take-along-everywhere toy of their childhood. Everyone has a Bunnybear in their story, that one toy that we felt lost without regardless of whether it was shabby or pristine. In fact, shabby was better because it showed how loved it was but despite that, there is always room for change and sometimes when it is thrust upon us we need to embrace it. This softness is not just in the storyline but also in the rhythm of the story - long sentences that spread out over vignettes and pages as life continues on its merry way but changing to shorter, more abrupt statements when the worst happens and then gradually getting longer and more rhythmic as life takes on a new pattern. The whole wraps around the child like a hug, reassuring them that things will work out even if they are different.
Sometimes when little ones go to big school there is a suggestion that it is time to leave their preschool lives behind, including their beloved toys that have been with them since birth. And yet with this huge change in their lives they are left without the companionship of their most trusted and comforting friend and ally. We have to remember we can still count in months the time these little ones have been in the world and they need and deserve all the support they can get. The astute teacher will acknowledge that these are more than just a collection of stitches and stuffing, that they are imbued with love, safety and security and perhaps having a special shelf so the special toys can come to school too with the child deciding when they want to wean themselves. Meanwhile the teacher librarian can encourage them to read to their special toy in school and at night and might even provide a collection of teddies for those who just need an extra hug or two. It worked for me!
Barbara Braxton
BUY IT ON
Nov 15 2017
The poesy ring: a love story by Bob Graham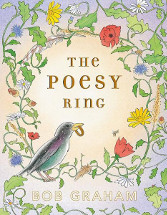 Walker Books, 2017. ISBN 9781406378276
(Age: 5+) Highly recommended. Themes: Love. Marriage. Artifacts. Historical evidence. The journey of a poesy ring given to a beloved in times long ago is full of significance as it is lost and then found nearly two centuries later, meaning the same thing for the couple today as it once did for the couple that lost it. A whole story can be evoked from the opening pages watching a young Irish woman gallop away from the sea, a tall ship disappearing into the distance. It is 1830 and she has thrown the ring away. It falls to the ground, spending time with the small animals and grasses that grow around it. An acorn that falls nearby grows into a huge tree before a deer finds the ring lodged in its hoof. The ring falls into a meadow, and when the farmer tills his soil, a bird picks it up. From there is falls into the sea only to be retrieved from a fishing net and sold. By now it is 1967, and a couple busking in the New York underground, take their earnings to a gold shop where they buy the ring and walk home together in the snow.
The ring has come full circle, finding a finger on which it can sit symbolising the love between two people.
This touching story of love, dedicated to Graham's partner of fifty years, Carolyn, will endear itself to all readers, showcasing the endurance and tenacity of love and its symbols. The inscription inside the ring, Love never dies, resonates through the story as the ring, buffeted by the passing seasons is eventually found in a shop in New York, bringing a small tear to the eye of all who read it.
Graham's soft watercolour illustrations show time passing from tall ships, then wartime destroyers and later a fishing trawler, while a man turns the soil with his plough, reaping the crop with a scythe, the images moving on to the escalator in the underground and the shops in the streets of New York. This book lovingly shows the passing of time and the enduring power of the little ring, lost and now found, a circle of love for a new generation. Younger readers will have a great time seeking the smaller pictures on each page, reflecting the passing of time, while older readers will ponder the timelessness of the gold ring and all that it implies. Graham successfully inhabits his books with the small things of life, the wonderful image of the ploughing man and his horses, the boots of the fisherman, the tattoo on Sonny's hand, the children giving money to the buskers. His books give a feeling of solidity, of family, of community and continuity, and no more so than here, with the ring coming full circle, to the hand of a woman in New York.
A wonderful interview of Bob Graham by Jason Steger of the Sydney Morning Herald can be found here.
Fran Knight
BUY IT ON
Nov 15 2017
On the free by Coert Voorhees
Carolrhoda Lab, 2017. ISBN 9781512429138
(Age: 15+) Themes: Survival. Disasters. Resilience. Santiago has elected to undertake the Bear Canyon Wilderness Therapy Programme in the Colorado mountains as a diversion from the juvenile justice system. A small party supervised by two counsellors sets off on a demanding trek designed to encourage the attendees to evaluate their lives and take responsibility for the future. Santi's character is brilliantly depicted. He's a good kid who has made a couple of poor decisions which lead to serious consequences. I found myself nodding at the entirely realistic portrayal of a lad lacking parental guidance whose ethnicity and socio-economic background limit his opportunities. When drug offences lead to criminal bad company and a custodial sentence, I groaned, not just because Santi's choices were so obviously flawed, but because this is daily reality for so many young people.
It was also refreshing to see the Wilderness Programme presented as a well-intentioned but slightly delusional attempt to help troubled youths who treated it with some derision. This was partly due to their adolescent cynicism and posturing but also because its organisation and staffing were imperfect.
Victor is another trekker and is a thoroughly unpleasant character who enjoys inflicting discomfort and humiliation on his fellows. Again, the revelation of his past steers the reader to understand and feel compassion for a young man whose future could have been so much happier and more fulfilling.
The interaction and tension between Santi and Victor and other party members is realistically portrayed and a natural disaster which leads the pair to fight for life in the company of Amelia, one of the camp counsellors is entirely plausible.
This is a good survival story which could have been brilliant. The crafting of characters, setting and events in the context of wilderness adventure created a fast-paced and satisfying read which unfortunately lost its way a little after the disaster. The inclusion of another aspect seemed contrived and unnecessary, cluttering a story which was developing nicely on its own.
This is still a worthy read and I know it will appeal to those who enjoy survival stories where individuals have to use skill and resilience to overcome significant physical and mental challenges.
I'd suggest this suits readers 15+ and the text contains some profanity which achieves a nice balance in presenting realistic teenage dialogue which the readership will identify with, but which is not particularly offensive or gratuitous.
Rob Welsh
BUY IT ON
Nov 15 2017
Little Shaq: Star of the week by Shaquille O'Neal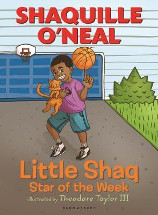 Ill. by Theodore Taylor III. Bloomsbury, 2017. ISBN 9781619638822
(Age: 6+) "Little Shaq has always wanted his own kitten, but his parents aren't sure he's responsible enough. When Little Shaq is chosen as his class's Star of the Week, he knows that this is his moment to shine, to prove to his parents that they can count on him. Will Little Shaq be able to show he's ready for his very own pet?" (Publisher)
Written by Shaquille O'Neale and illustrated in colour by Theodore Taylor III, the Little Shaq story is sure to turn into a popular series with young sports enthusiasts. This will fit nicely into the 'quick reads' section as it is set out like a chapter book and will not take the reader long at all to complete. The relatively large text with illustrations interspersed will act as a confidence builder for children striving to read the 'chapter book'.
The book celebrates family, friends and community and the simple language used is tailor-made to the target audience. Not only can Shaquille play basketball, I think he has also hit the nail on the head with this book. Suitable for students aged 6 and up.
Kathryn Schumacher
BUY IT ON
Nov 15 2017
Paddy O'Melon the Irish kangaroo by Julia Cooper and Daryl Dickson
Exisle, 2017. ISBN 9781925335637
On the very day that he took his first steps out of his mother's pouch, the little kangaroo is separated from her as two large black marauding dogs race through the clearing, scattering them to shelter. The joey cannot keep up with his mum so he hides, found hours later by the O'Melon family who live in a valley in the rainforest and who care for injured and orphaned native creatures. They call him Paddy O'Melon, their Irish kangaroo. Wrapped in a pillowcase pouch and bottle-fed a special milk mixture, Paddy not only survives but thrives. He spends more and more time in the garden as he grows, meeting and making friends with the other creatures that the O'Melons have rescued. Eventually, all his time is spent outdoors and the family tell him that when he is old enough he can return to the wild and live with his own kind. But just what is his "own kind"? When he introduces himself as Paddy O'Melon the Irish kangaroo, he is met with sniggers and giggles and no one is able to help him. The best advice he can get is to find the cassowary who knows everything and everyone.
This is a charming story with echoes of Are you my mother? but with much more depth and interest. Written by a highly regarded naturalist, who has since passed away, it not only introduces the reader to the unfamiliar and unique creatures of Far North Queensland but carries a lot of information about them in both the text and the stunning illustrations, but never intruding into the story of Paddy's quest.
While many are familiar with kangaroos and wallabies, few know about their cousins the pademelons who inhabit the northern rainforests In an effort to spread the word about the species of her home region, Cooper has deliberately included the more unusual.
There are also Teachers' Notes available and royalties are being donated to further the conservation of the area.
Apart from just being a good story, this book also introduces us to more of Australia's wonderful wildlife, perhaps setting up an investigation that compares and contrasts those of the FNQ region to those in the students' region.
Barbara Braxton
BUY IT ON
Nov 14 2017
The untold story of Father Christmas by Alison and Mike Battle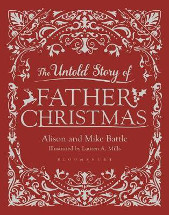 Ill. by Lauren A. Mills. Bloomsbury, 2017. ISBN 9781408892343
"In olden times, when magic still filled the air, there lived a master toymaker and his wife . . ."
So begins this delightful retelling of the story of Father Christmas, beautifully illustrated and set in a land of deep forests, elves and magic.
The kindly toymaker and his wife discover that if you keep your heart full of love and wonder, dreams really do come true . . . .
Who doesn't love a traditional story at Christmas time? A beautifully illustrated and timeless story about how a toymaker and his wife became Mother and Father Christmas for children all over the world. The toy maker is a kind character, always seeing the best in situations, except for one thing - they did not have their own child. With similarities to The Elves and The Shoemaker, the old couple set about making toys for the children in their village. This is a truly beautifully written story that displays the true meaning of Christmas and the act of giving. It would be fantastic to talk to students about being selfless and what one can gain from displaying this quality. I can see the children shouting out 'it's Father Christmas' as I am reading the story as he is described as a toy maker throughout the book and not referred to as this until the very last page in the book. I am a sucker for a traditional story using traditional colours in the illustrations and this did not disappoint me. A welcome addition to the collection of Christmas books.
Kathryn Schumacher
BUY IT ON
Nov 03 2017
A very quacky Christmas by Frances Watts and Ann James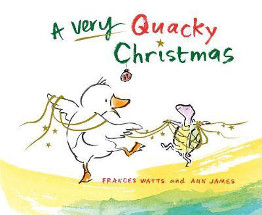 ABC Books, 2017. ISBN 9780733329623
(Age: 2-5) Highly recommended. Themes: Christmas, Sharing, Perseverance. Samantha Duck is singing her favourite song, We wish you a quacky Christmas as she gets ready for Christmas. She believes that animals love to share and she wants to give presents to animals all over the world. Sebastian the tortoise is not so optimistic. He believes that it cannot be done, and says "Christmas is not for animals," but Samantha is determined because for her "Christmas is about giving and sharing". When they approach their farmyard friends for help all the animals decide that Christmas is for them. The sheep donate their wool for Samantha and Sebastian to knit socks and scarves, the hens donate their eggs for the pair to make cupcakes, the cows the daisies in the field for daisy chains and then they wrap everything in brightly coloured paper. The donkey shares his cart so that the friends can deliver their presents all over the world. With determination and a final belief that Christmas is for animals from Sebastian, the pair soar into the air, delivering their presents all over the world.
This is a joyous picture book that is destined to become a Christmas favourite. I found myself humming along to Samantha's We wish you a quacky Christmas for hours after reading the story and kept the images of the Samantha and Sebastian dancing to the song in my head, making me feel happy at the thought of sharing and giving at Christmas. Children will delight in the gorgeous illustrations of the friends as they make their presents and soar across the sky and will easily follow the themes of perseverance and generosity that permeate the story.
A very quacky Christmas is a keeper and one for all libraries, homes and classrooms.
Pat Pledger
BUY IT ON
Nov 03 2017
One Christmas wish by Katherine Rundell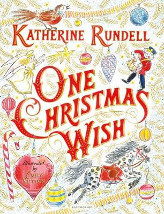 Ill. by Emily Sutton. Bloomsbury, 2017. ISBN 9781408885734
(Age:7+) Highly recommended. Themes: Christmas, Loneliness, Sharing, Decorations, Friends, Family. A modern fable, this story tells of a young boy's wish at Christmas and how his wish is fulfilled when he sees a star falling across the night sky.
It is Christmas Eve and he has been left with a new babysitter who falls asleep over her mobile phone in the kitchen. He takes the decorations from the strongly sellotaped box to hang on the tree, and is dismayed all over again that his parents have not replaced the broken ones. He attaches the damaged baubles and finds four more decorations at the bottom of the box: a toy soldier with a rusty drum, a fairy with damaged wings, a wooden horse on worm eaten rockers and a a bedraggled robin.
After he wishes on the falling star, he hears voices behind him and is amazed to see the four decorations asking for help to come down from the tree. From there the excitement of Christmas Eve, making friends and sharing with others takes on a reality of heartfelt proportions as Theo finds ways of making his friends happy. The horse is unscrewed from its rockers, and the robin helped to find someone who will teach it to sing as the five make their way to Mrs Goodyere's house. The robin stays to help her celebrate Christmas, remembering her dead husband, Arthur while she helps the robin sing. They find feathers along the way to repair the fairy's wings, and the tin soldier asks for help in finding someone to love. Theo cleans up his drum, and they head to the doll shop where they find a princess waiting for him. He leaves them guarding the infant in the manger in the town square while the horse makes its way into the sky. When Theo returns home, some magic happens for him as well when his parents return sooner than everyone expected after seeing a horse flying through the night sky and making them feel that they should return home to be with their family.
The warmth of the story is reflected in the detailed illustrations, reminiscent of books from long ago, with lots of Christmasy customs and images to pour over. Readers of all ages will get a thrill reading this lovely witty story and stopping to soak up the marvelous illustrations.
Fran Knight

BUY IT ON
Nov 03 2017
A Christmas menagerie edited and compiled by Beattie Alvarez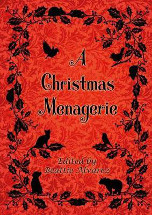 Christmas Press, 2017. ISBN 9780994528049
(Age: 7-12) Recommended. Themes: Christmas, Short stories. Twelve short stories will delight young readers and any adult who reads them aloud to children. The stories are by well known authors, Janeen Brian, Michael Pryor, Sophie Masson, Gabrielle Wang and Sherryl Clark as well as some new and emerging authors.
This is a compilation to dip into and enjoy. Clever wombat by Janeen Brian has a very busy Wombat ticking off the tasks for Christmas from his list but needing the help of his friends to find a special Christmas tree. Children will giggle about Michael Prior's story of Santa's special helper the pig who has to help Santa out by eating all the treats left out by families, the delightful illustrations by Kathy Creamer adding to the humour in the story. Adults and children alike will thrill to the story of The ancient wren by Michael Grey, with its moral "Happiness, like kindness, is only real when shared". I was really taken with Pony for Sale, written and illustrated by Gabrielle Wang. Although it isn't a traditional Christmas story, the themes of generosity, sharing and caring that come through this tale of a little girl who has to give her pony away when her family moves to a small flat are ones that bring the spirit of the festive season to life.
Each story is illustrated by different illustrators, Kathy Creamer, Fiona McDonald, Beattie Alvarez, Ingrid Kallick, and Yvonne Low and the bright colourful drawings all add to the joy in the book.
A selection that will continue to be enjoyed by children over the years, this is a worthy addition to every library and classroom.
Pat Pledger
BUY IT ON
Sep 13 2017
Literature to Support the Australian Curriculum Book 2 - Annotated Lists of Fiction and Poetry by Fran Knight and Pat Pledger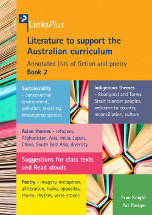 Pledger Consulting
, 2017. ISBN 9781876678531
Highly recommended. This book contains literature to support the Australian Curriculum. It contains annotated lists that cover Asian and Indigenous themes, Sustainability, Poetry, Suggestions for class texts and read alouds for both Primary and Secondary students.
I would highly recommend this useful text for both educators and teacher librarians. It is extremely easy to use with each separate subject being divided up into year levels - entry level - Year 3, Years 4-6 and Years 7-10.
Each annotation contains the publisher and year of publication, making it easy to track down the resource. There is also a brief description/blurb of each text.
Popular picture books and both junior and senior novels are listed. For ease of use, all entries are listed alphabetically according to authors. To assist this, there is also an index of authors.
Each section contains new and recently published texts where you will find your old favourite authors and be introduced to a number of new ones.
It is pleasing to see the inclusion of a diverse range of novels and picture books written by Indigenous authors and illustrators in the Indigenous section. Themes such as diversity, celebration, reconciliation, art and culture are all represented.
I was impressed with the poetry section as this is often an area we are asked for texts by teachers. We find it difficult to find 'good' poetry books to purchase so we will certainly be using this as a starting point to update our collection.
Kathryn Schumacher
BUY IT ON
Feb 02 2017
Literature to support the Science curriculum Foundation -7 by Fran Knight and Pat Pledger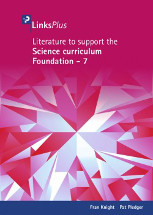 Pledger Consulting, 2016. ISBN 9781876678470
Highly recommended for educators. Subjects: Science curriculum; Fiction; Annotated bibliography. Fran Knight and Pat Pledger continue to write first-rate reference tools for teachers in primary school education, which focus on key curriculum areas. This resource links popular picture books, junior and senior novels and non-fiction books with the Australian Science curriculum. Each book listed has a review available on the ReadPlus online database.
Set out in an easy to read format, each year level and scientific topic is explored with listings presented in alphabetical order of the author. A comprehensive index is included as well.
Pamela Allen, Jeannie Baker, Phillip Gwynne and Elizabeth Honey's popular picture books support the Foundation Biological Sciences strand and the Inquiry Skills. Recent publications such as Aleesah Darlison's Spider Iggy and Roland Harvey's On the River provide up to date scientific information in a story format. The scientific and geographic books by writer and researcher Peter Gouldthorpe provide an excellent foundation for Year 6 students investigating Earth and space sciences. Content included covers Aboriginal perspectives and presents books that introduce a scientific worldview.
Fiction is an invaluable tool for introducing a new science subject, for encouraging investigation, for introducing keywords, setting up a word wall and stimulating creative inquiry and research skills.
Literature to support the Science curriculum Foundation -7 is a significant resource for educators and teacher librarians and for supporting STEM programs.
Rhyllis Bignell
Editor's note: The book is available here.

BUY IT ON
Feb 21 2016
Fiction gems: Recommended fiction lists for Upper Primary and Lower Secondary students by Fran Knight and Pat Pledger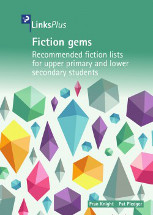 Pledger Consulting, 2016. ISBN 9781876678456
Teacher reference. What a great resource for those charged with purchasing or recommending reading material for Upper Primary and Lower Secondary students. The Middle School aged reader can have specific interests or reading demands and keeping on top of current and favourite books can be very difficult without some help from trusted reviewers. This book lists Fiction recommendations within a number of categories; some books are indicated for more mature readers, but most are well-suited to the 10-15 aged reader.
Each book is summarised with a 1-2 sentence brief overview, so it is easy to peruse for suggestions for readers. More complete reviews are accessible via the ReadPlus review blog index.
This is a book that would be a good resource on the Librarian's shelf.
Carolyn Hull
BUY IT ON