Review blog
Click here for the ReadPlus Review Blog RSS feed. Copy the link location into your feed reader.
Click here to see all reviews
Sep 21 2017
The children of Willesden Lane: a true story of hope and survival during World War II by Mona Golabek and Lee Cohen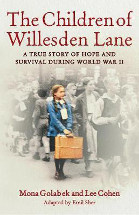 Allen and Unwin, 2017. ISBN 9781760630805
(Age: 13+) Highly recommended. In Austria, following the 1938 Kristallnacht (The night of the broken glass) Malka and Abraham Jura, parents of Rosie, Lisa and Sonia made an indescribably painful choice to save one of their daughters from the evil brutality of Nazism.
Having secured only a single seat on the Kindertransport, these loving parents chose their fourteen year old daughter Lisa, a musical prodigy who dreamed of becoming a concert pianist. Lisa's mother urged that she must 'hold on to her music and let it be her best friend'.
The hearts of all family members were torn when she left on a train via Holland to take refuge in England where Jewish children were accepted if sponsored by a relative. Lisa feared for her family and experienced natural distress caused by separation and feeling displaced in an unfamiliar country. This was made worse when her sponsoring relative essentially abandoned her at the railway station and she found herself assigned as a maid to a wealthy family in the country. Whilst shown kindness by staff, Lisa realised that she could not respect her mother's wish to follow her dream if she stagnated, so the plucky girl left and arranged her own transport to London.
Life became more bearable for Lisa when she was given accommodation at Bloomsbury House, a hostel for a large number of Jewish refugee children of varying ages, run by the kindly Mrs. Cohen. All the refugee children undertook paid work for their support and when Great Britain declared war on Germany, they laboured for the war effort as they anxiously watched Hitler's armies rolling through Europe to threaten from across the Channel.
Reading historical biographies so often causes me to reflect on how stoic and resilient previous generations have been under the most impossible circumstances. I cannot imagine the sense of loss and fear Lisa Jura must have felt during her early adolescence, yet she endured mental and physical exhaustion from long days of demanding work and lack of sleep from nightly bombing during the blitz.
This story centres on the courage and persistence of a child who yearned to fulfil her musical dreams and quickly matured beyond her years in a time of grave uncertainty.
I highly recommend this book for 13 years onwards.
Rob Welsh
BUY IT ON
Sep 21 2017
I just ate my friend by Heidi McKinnon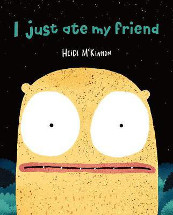 Allen & Unwin, 2017 ISBN 9781760294342
(Age: 4+) Recommended. Friendship. Belonging. Control. A creature tells us that he has just eaten his friend. The look on his face is one of remorse and a little embarrassment as he then goes searching for a new friend. But it is all too hard. One rejects him because he is too big, one too small, another too slow, and another too scary. He keeps on asking other creatures whether they will be his friend, but still no one is suitable. He begins to question whether he will ever get a friend, when another creature pops up saying that he will be a friend. But a twist in the tale occurs overleaf, which will have readers laughing out loud.
Readers will readily recognise that need to have a friend, and the joy of finally having a friend after a falling out with a former friend, or when one moves, or becomes friendly with someone else. The possibilities of losing a friend are endless and many students will recall how they lost a friend and the importance of filling that gap in their lives. The idea of eating a friend too will bring up discussions of how to keep a friend, of working at a friendship, of being a good friend.
The spare text is complimented with bright colourful illustrations denoting the creature who has lost his friend. The use of only a few colours makes each page stand out boldly, the face with only a few lines tells us all we need to know about the main character. Its amazing how a straght line for the mouth and the pin prick eyes show us remorse or embarrassment, while a slight twitch of the line for the mouth depicts happiness when a friend is found. Readers will have fun with this book, watching the journey taken by the yellow creature and seeing the same thing happening all over again with the blue friend.
Fran Knight
BUY IT ON
Sep 21 2017
Sir Scaly Pants and the dragon thief by John Kelly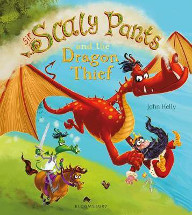 Bloomsbury, 2017. ISBN 9781408856062
(Age: 4-7) Recommended. This is the second story about Sir Scaly Pants the Dragon Knight and is just as entertaining as the first. This time the king is kidnapped by an evil dragon and Sir Scaly and his clever horse Guinevere, go to the rescue. After traipsing past a cyclops, a warty witch and a long-haired lady, Sir Scaly discovers the king tied up to a flagpole on the top of a very tall dragon tower.
Then he and Guinevere have to use all their wits to work out a way to rescue him.
The reader is introduced to 'The story so far' in an explanatory one page rhyme which describes how a knight raised him, how he went to Knight School, beat a smelly giant and became the King's champion. Then the story continues in humorous rhymes which are a joy to read aloud. The allusions to myths and fairy tales, like Rapunzel, will also appeal to astute readers, who will also appreciate the twisty ending.
John Kelly has been shortlisted for the Kate Greenaway Medal and his illustrations, bold and very colourful, will certainly appeal to his young audience. The evil dragon is a joy to behold, gripping the king in its forelegs and the looks on all the faces of both people and animals will have young readers giggling aloud.
This is an uplifting and very humorous story that will have instant appeal to young readers and listeners.
Pat Pledger
BUY IT ON
Sep 21 2017
Pippa's Island: Cub reporters by Belinda Murrell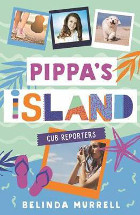 Random House Australia, 2017. ISBN 9780143783688
Life could hardly be more different for Pippa. From a seemingly happy family living in a Victorian terrace house in London to a caravan in her grandparents' backyard on a tropical island off the Australian coast. Forced to make changes when her husband decided to work in Switzerland without them, Pippa's mother has uprooted the family to a totally new environment where she is now running the increasingly popular Beach Shack Cafe created from an old, abandoned boat shed - a huge contrast to being a stockbroker in London!
Pippa has a new puppy called Summer, is learning to surf, has settled into school and now has a group of friends - Meg, Cici and Charlie - and they call themselves the Sassy Sisters. So when teacher librarian Mrs Neill launches a student newspaper inviting all the students to submit articles for the first edition, they are very excited. But each has different interests and therefore different ideas of the focus of their story so whose idea will be adopted? And what happens when naughty puppies and tropical weather and uncooperative shopkeepers interfere with their plans? Being a junior journalist is not as easy as it sounds.
This is the second in this new series by Belinda Murrell, aimed at the independent reader who is looking for something that will absorb them for a while. Writing modern stories for this tween-age group who are on the cusp of becoming young women with all that that entails is difficult because there is a fine line between what to include so the older girl remains interested and what to leave out so that the younger girl who is reading at this level is not turned away. In this series, Murrell has nailed it with just the right balance. There is action aplenty, a healthy relationship with the boys in the story, Cici's fashion interests to add the touch of glamour and a main character who could be almost any girl who picks up the book. This and its predecessor The Beach Shack Cafe will be in Miss 11's Santa's Sack this year!
When I was this age I read The Pen and Pencil Girls by Clare Mallory, a book which had such an influence on my writing as a child that I tracked a copy down and bought it a few years ago. Move forward a couple of decades and the Junior Journalists club was the most popular and sustainable one that operated in my school library, and now we have Cub Reporters to inspire another generation. Offering kids an authentic outlet for their writing, their illustrating and their photography is a winner for getting those who have a passion for these things involved in school life while perhaps moving them on to a higher level of expertise. Let this book be the one to kickstart a program in your library.
Barbara Braxton
BUY IT ON
Sep 20 2017
His Royal Tinyness : A terrible true story by Sally Lloyd-Jones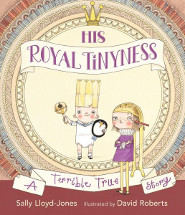 Ill. by David Roberts. Walker Books, 2017. ISBN 9781406324662
(Age: 4-8) Highly recommended. Humour. Siblings. Babies. Told from the point of view of "the most beautifulest, cleverest, ever-so-kindest Princess with long, flowing wondrous hair," this is the tale of a family that was happy until a new ruler was born, "His Royal Highness, King Baby". The story goes on to describe the terrible trials that Princess Marianna has to put up with, as His Royal Tinyness burps his way to his first birthday, when all the family's friends and relatives meet to celebrate this wondrous occasion.
Told in a very amusing narrative, the first year of the baby is described, while the little girl, resplendent in yellow tights on her head to denote her beautiful hair, learns to put up with no longer being the centre of attention in her kingdom. The addition of funny little sayings in parentheses like Marianna describing herself as (lovely in all her ways) greatly enhances the humour and will have readers laughing out loud. The ending is tender and loving and leaves the reader feeling uplifted as the little girl shows her love for her brother.
David Roberts' illustration are fabulous. I loved the retro images of the parents in their 70's outfits, bell bottom trousers on the father and hippy dresses and clogs on the mother but what really stood out for me was the addition of child-like drawings that Marianna drew showing the life that enfolds around her and just what she thought of the progress of her baby brother.
This would be a welcome addition to any house where a new baby is expected and would provide a humorous discussion point and read aloud in the classroom where families are being discussed.
Pat Pledger
BUY IT ON
Sep 20 2017
Shapes of Australia by Bronwyn Bancroft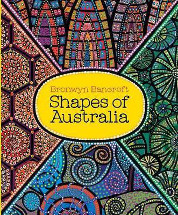 Little Hare, 2017. ISBN 9781760129286
So often we walk around with our eyes open but we don't really see anything. Yes, we see trees and rocks and distant mountains and even birds in the sky but do we ever see the distinctive shapes they make and the patterns within them?
With her artist's eye, Bronwyn Bancroft has taken the items we take for granted and brought them to life through colour and pattern in the distinctive way that only she can, ensuring that next time we see ocean waves and river boulders, even city skyscrapers, we will look at them with new eyes.
Inspirational for its bold use of colour, intricate, detailed patterns and simplified geometry emphasised by the shapes within the shapes, this visually stunning book will also inspire poetry as students appreciate the simple sentences that accompany each picture building metaphors like the "crystal shards" of skyscrapers and the "quilt of nature's comfort" of the grasslands.
An excellent companion to Colours of Australia, students could be encouraged to examine the unique shapes of their own landscapes, even if that is just the playground, and reproduce them in Bancroft style.
Barbara Braxton
BUY IT ON
Sep 20 2017
Little Shaq takes a chance by Shaquille O'Neal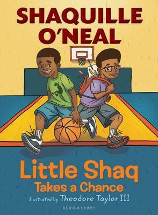 Ill. by Theodore Taylor. Bloomsbury, 2016. ISBN 9781619638785
(Age: 6+) Recommended. Themes: Talent; Friendship. Little Shaq loves basketball and he is good at it but is a little worried that he might not be good at art. He doesn't really want to try something new (including trying new foods). These struggles are happily overcome with the support of friends and family.
This early chapter book is a simple and encouraging look at family, growing up and talents. Written by a very famous basketballer, it is an unpretentious view of the journey through life for the talented Little Shaq. The bright illustrations are appealing and helpful for an early chapter book reader as they transition from picture books to novels.
Carolyn Hull
BUY IT ON
Sep 20 2017
A is for Australian animals by Frane Lessac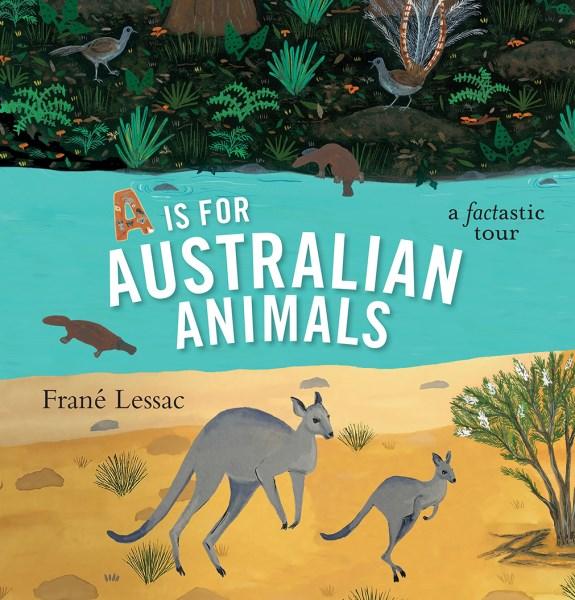 Walker Books, 2017. ISBN 9781925381009
(Age: 4+) Recommended. Australian animals, Habitat, Fauna, Distribution. Subtitled, A fantastic tour, this informative book will take kids on a journey through various environments to spy on a huge range of animals that share our continent. While some are more commonly known: kangaroos, wombats and koalas for example, many are less known: hopping mouse, mulga snake and numbat for example, and altogether the book reiterates the range and diversity of Australian animals to a generation bombarded with images of animals from around the world on their screens and in their books.
Most pages are devoted to one animal, and the page is filled with illustrations detailing their environment, and with short paragraphs giving information about that animal, its habitat and behaviours. I found it fascinating in its detail and what was chosen to be included, and younger readers too will read it eagerly from cover to cover.
Some animals cover a double page while several pages have to be read by turning the book around, adding interest and the question, why? All will engage and educate the reader.
Lessac uses gouache and oils to develop her naive style of illustrations, heavily influenced by the bright colours of the Australian landscape. This technique is delivered with panache in this individual presentation of Australian animals, one which will have readers absorbing the facts presented and looking closely at the illustrations for the detail she includes on each page.
The opening double page has a map of Australia showing where most of the animals live, while in the back of the book is a more academic presentation of the distribution of the animals shown in the book.
This helpful resource aiming to educate our students on the variety of flora and fauna on our continent is a welcome addition to any school library and classroom.
Fran Knight
BUY IT ON
Sep 20 2017
Butterfly we're expecting you by Libby Hathorn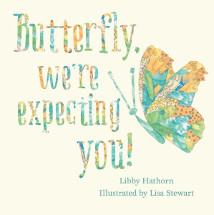 Ill. by Lisa Stewart. Lothian, 2017. ISBN 9780733416995
(Age: 4+) Gardens, Exploration, Butterflies. Two children go out into the garden to see what they can find. They see a caterpillar and wonder at what it will become, they see a beehive and wonder at the bees inside, making honey, they see a lizard but it scuttles away, a frog hops away, birds chirping in the tree.
In rhyming stanzas Hathorn tells of the children and their exploration of the garden, looking at all the wonders it holds, but also thinking of what may lie beneath. When it is time to come back indoors they spy a wondrous butterfly, resulting from the caterpillar they saw at the beginning.
In this way the story comes back on itself, encouraging children to go outside and take a look for themselves. The softly sentimental illustrations show the two children alongside enlarged versions of what they see.
Some teachers may be able to use this book to encourage children to look beyond the classroom and social media to which they are so attached.
Fran Knight
BUY IT ON
Sep 19 2017
Figgy takes the city by Tamsin Janu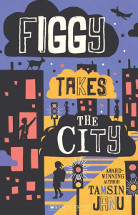 Scholastic, 2017. ISBN 9781742992006
(Age: 10+) Highly recommended. Figgy and her friend Nana win scholarships to attend school in Ghana's big city, Accra. The city is exciting, and full of new friends and adventures. But when Nana begins acting strangely, and disappears, Figgy follows him to a place that is scary and sad. She must convince Nana that he belongs, no matter where he comes from. And she learns that sometimes change is not so bad... especially if you have somewhere and someone to go home to.
Tasmin Janu has done it again. Fans of the previous Figgy books will once again be captivated by this new book in the series. Figgy continues to develop her feisty nature as she enters a world extremely foreign to her. Nana and Figgy's relationship is tested while Nana struggles with believing that he really belongs with Figgy's family.
Themes such as friendship, family, poverty and homelessness all combine together to give us an insight into what it is like for many children in Ghana. A must-have book to keep adding to the series. The larger text on pages makes it appealing for students 10 and up.
I think this would make a great read aloud series and work in nicely with a unit on poverty, homelessness or access to basic needs.
Kathryn Schumacher
BUY IT ON
Sep 18 2017
The Pastor's kid by Danielle Weiler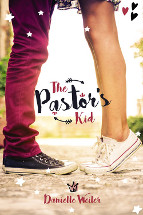 Ark House Press, 2016. ISBN 9780995391796
(Age: 14+) This book has many good lessons, and is about mostly good people, or at least those who are trying to be good. The 'Pastor's kid', Mattie, is in senior high school in the new town where her father has been sent to work with students. It is her mother, a teacher at her high school, who is more puzzling, disappearing as she does on many weekends, for reasons that are only revealed towards the end. The students appear to be supportive of the religious element at first but then things begin to change. However, the story remains centred more on the Pastor's family and their struggles to fit into their new world.
It is normal to see the presence of God as good for this family, but with the state high school's invitation to the pastor to work with the senior students, it is evident that the students' responses will vary. We are caught up in the story of the parson's daughter, Mattie, for whom romance blossoms as she is captivated by her new friend, Jay. Yet, while trying to help her father make the Chapel program vibrant and workable, puzzled at her mother's frequent weekend trips to the city, and at the same time trying to keep her cool as her sister begins a new relationship with Jay's friend, Mattie struggles and everything seems to get too hard.
This is a good story that addresses issues of the place of religion in the world today, especially in the public school system. It would be suitable for students in the middle and senior years of high school.
Elizabeth Bondar
BUY IT ON
Sep 18 2017
The bad bunnies' magic show by Mini Grey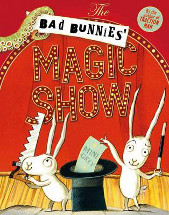 Simon and Schuster, 2017. ISBN 9781471157608
(Age: 5+) Recommended. Magic. Magicians. Deception. A slight change in plans means that The Great Hypno has been unavoidably detained and is replaced by the two bunnies, Mr Abra and Cadabra. The two bunnies take over the magic show usually put on by The Great Hypno, changing a fish into an octopus, using one of the bunnies as a target for knife throwing, changing a bird into a beast, and sawing a woman in half. All is done with the magic wand and the words, Hey Presto, reminding readers of days gone by when this sort of entertainment was far more usual than it is today. People reading the story with the children will have fun recalling the fairs, fetes and circuses which once were common in towns and cities alike. Television shows about magicians too seem now a thing of the past, and so this will rekindle interest and teach the words and images that went with this form of entertainment.
Mr Abra and Cadabra go on their merry way, eventually using hypnotism to get the audience asleep to steal from them, but the woman sawn in half comes to the rescue of The Great Hypno and all is well.
A wonderful read aloud story, I can imagine children and adults alike putting on various voices of the people involved, searching for The Great Hypno, detained by the bunnies and looking closely at the images that make up a magic show. Great fun and gloriously illustrated, with lift the flap pages adding to the intrigue.
Fran Knight
BUY IT ON
Sep 18 2017
100 things to know about food
Usborne, 2017. ISBN 9781409598619
This is a fascinating journey through the world of food that will not only appeal to budding young chefs but to anyone who likes to eat. Presented with lots of colourful illustrations with hundreds of simply expressed facts that are readily accessible to newly independent readers, it begins with an explanation of why we need to eat, the sorts of basic elements we need to have, like fats, carbohydrates, proteins, minerals and vitamins and then takes us on a journey of the most diverse and interesting topics. Who knew that hating Brussels sprouts could be in your DNA; that you should never bake meringues on a rainy day; or that the national fruit of Jamaica contains a deadly poison? Readers can find out about why farmers rent bees, the last meal served on the Titanic, even about the Frenchman who ate an entire plane between 1978 and 1980.
This is the sort of book that attracts young boys in particular, as they sit around a library table each sharing the same book and sharing the most outrageous pieces of information they can find. Despite the knowledge that they gain about the topic, the sheer enjoyment of the activity, and the affirmation that reading is not only useful but fun are enough to ensure that this book deserves a place in the collection.
As is usual with Usborne non fiction, information literacy skills are supported by a glossary, and an index, as well as pre-selected Quicklinks which take the learning even further. Another one for the information-hungry, daughter-of-a-chef Miss 6. She is going to be surprising her father with her new knowledge!
Barbara Braxton
BUY IT ON
Sep 18 2017
Two rainbows by Sophie Masson and Michael McMahon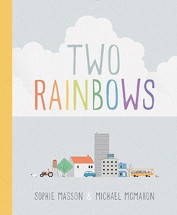 Little Hare, 2017. ISBN 9781760127794
The little girl looks out from her city window and sees a cloud and part of a rainbow. At first, it seems like it is the only colour in this grey, drab city landscape and she thinks longingly of the rainbows she used to see in the country on the family farm - rainbows that spanned the whole sky and lit it up, not just a small arc peeping from a cloud because the sky is full of buildings.
But gradually she begins to see spots of colour in her new surroundings - not the full-blooded red of the tractor of the farm but the red postbox in the street; not the orange of the sunset and the twine around the hay bales, but a curl of orange peel on the pavement; not the blue of her sheepdog Billy's eyes but the paint of a neighbour's fence... And there is one colour that both landscapes have in common.
This story is a marriage of text and illustration, each interdependent as they should be in quality picture books. At first the little girl sees only the rainbow, even though there are other spots of colour around her, as she thinks nostalgically of the colours of the country, but as she starts to see more of her environment, so too the colours in the pictures increase although the city remains grey and the country bathed in light. And as her thoughts slowly attune to the city environment she begins to see more objects, different from the farm but perhaps with something to offer as she peers over the blue fence and sees a treehouse with a rope ladder and maybe a friend.
Perhaps, after all, there is but one rainbow - it just sees different things. An interesting contrast between city and country living that poses the question about why the family may have moved; about nostalgia as we tend to yearn for the things we remember when we are out of our comfort zone and hope as we learn to adjust and adapt to new places, new things and new experiences.
Barbara Braxton
BUY IT ON
Sep 18 2017
Aussie legends alphabet by Beck Feiner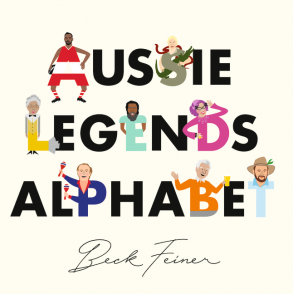 ABC Books, 2017. ISBN 9781460709214
(Age: 8 - adult) Highly recommended. A surprise package, Aussie legends alphabet will thrill readers, children and adults alike, as they peruse the select group of famous and worthy Australians chosen to be described in this book. Starting with A is for Adam Goodes, then proceeding through the alphabet, there are amusing but very recognisable illustrations of people who have contributed to Australian life and culture, with a small and often amusing snippet of information about each. There is a good mix of gender and diversity across the whole spectrum of Australian life. The following are covered: sports (Adam Goodes, Rod Laver, Cathy Freeman), politics (Bob Hawke, Julia Gillard and Eddie Mabo), the arts (Dame Edna Everage, Dame Joan Sutherland, Peter Allen, Queenie Mckenzie, Henry Lawson, Olivia Newton-John), the media (Lee Lin Chin, Ita Buttrose, Molly Meldrum, Kath and Kim, Medicine (Fred Hollows) and History (Ned Kelly).
The way Feiner has drawn each of the people, using the letter of the alphabet, is original and attention grabbing. She has managed to capture the personality of each in the drawings and the reader is tempted to go through the book again to read the clever but short sentence that encapsulates the person's claim to fame as an Aussie legend. At the back of the book is a section with more details about the birthday, place of birth and achievements.
An ideal starting point for students who are looking at famous Australians in class, as well as being a fabulous gift and talking point for adults.
Pat Pledger
BUY IT ON
Sep 18 2017
The list by Michael Brissenden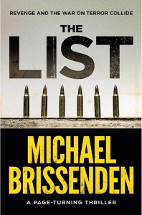 Hachette, 2017. ISBN 9780733637421
(Age: Senior secondary, adult) Recommended. Crime, Terrorism, Afghanistan. When young Muslim men on the terrorism watch list turn up dead, Sidney Allen and his partner, Haifa, are sent in to investigate. They are part of the K Block, a section within the Federal Police devoted to investigating terrorism within Australia. Three of these men have had their right hand removed, prompting Sid to think further than terrorist related deaths or deaths to do with gangs or drugs. When forensics reveals that the same gun has been used, and several of the men have been tortured, Sid concludes that these are revenge murders and the murderer is working to a list. But who that person is and why he is killing is harder to work out.
The opening chapter of the book, set in Afghanistan, provides a clue as to where the book is headed, and throughout the story, Brissenden gives the readers background information about the wars in the Middle East and how Australia is involved.
It makes for an informed and educative read, and the story powers along, taking the eager reader with it.
Sid's partner Haifa is part of a Lebanese family in Sydney's west, with two brothers jailed for drug offences and a third brother a darling of the political community, seemingly bridging the gap between Muslim and non Muslim. Haifa is torn between her family's values and those of the bureaucracy with which she works, and Brissenden eagerly reveals some of the tensions which exist between the characters. A relationship which develops between Sid and Haifa muddies their professional relationship and causes tensions within the whole group. But when Sid is kidnapped by the murderer, he realises that they must work together to find the terrorist called Scorpion to stop a major event happening in Sydney.
Brissendden delivers an acton packed page turner, revealing the nuances of understanding between all the protagonists, highlighting the range of opinions within each community and so reiterating just how multi layered this issue is in the modern world. He has used his experience as a journalist to add many real stories adding a layer of truthfulness to the fictional story. The climax reveals just how political decisions are when it comes to dealing with terrorists as those in power vacillate, looking at the implications for their electorate if a particular decision is made. It makes for fascinating reading, revealing a layer of complexity that for many will be unsettling and for some, shocking.
Fran Knight

BUY IT ON
Sep 18 2017
Alice-Miranda in Hollywood by Jacqueline Harvey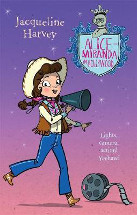 Alice-Miranda book 16. Random House Australia, 2017. ISBN 9780143780618
(Age: 8+) Highly recommended. Themes: Hollywood, USA: Movies, Friendships, Mysteries. Lights, camera, action, Alice-Miranda and her friends are off to Hollywood and the Grand Canyon in this thrilling new adventure. Caprice has surprisingly helped them land roles in Uncle Lawrence's new movie, a musical western, Frontier Woman: The Life and Times of Nellie Williams.
Filming at the studio is challenging; there is rivalry between the young actors and competition for the leading boy's role. Musical director Frau Furtzwangler demands perfection from the young singers and the new director flounders in his management, and studio head Eli Goldberg worries he is unsure about his role. A saboteur causes havoc on set, making the children's makeup to fluoresce and Uncle Lawrence is injured by a rubber bullet. Alice-Miranda knows that none of these misfortunes is related to Old Nellie's curse, but someone closer to the movie wants it to be shut down. Meanwhile, Alice-Miranda, Millie and their friends enjoy exploring the wonders of Hollywood, staying with Aunt Charlotte and the twins and being spoilt by Mexican housekeeper Magdalena.
In the beautiful desert setting near the Grand Canyon, even more problems occur on and off the film set. Tyger Lombardi, the annoying paparazzo who constantly tries to snap photos of Aunt Charlotte and the twins, has become embroiled with some shady characters that kidnap her. She escapes from their car and flees across the desert finding refuge in mysterious recluse Aisle's cabin. Once again, Alice-Miranda and Millie step up to save the day, this time on borrowed horses from the movie set.
Jacqui Harvey delights her fans with this sixteenth Alice-Miranda novel. All the enjoyable and familiar elements are present, an exciting multi-layered mystery, with captivating characters, commotions on and off the film set and puzzles for Alice-Miranda to solve. Devoted fans love the fabulous locations Alice-Miranda and her friends travel to and are always rewarded with plenty of family, friends, fun, fabulous food and exciting escapades.
Rhyllis Bignell

BUY IT ON
Sep 18 2017
Under the same sky by Britta Teckenrtup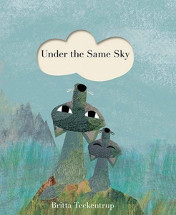 Caterpillar Books, 2017. ISBN 9781848575868
(Age: 4+) Recommended. Peace, Sharing. Under the same sky reflects the theme that we are all born under the same sky, with the same needs and wants, we share the same feelings even though we are spread across lands far away.
In brief spare phrases the author delivers this message in terms that can be understood by all readers, and supported with wonderfully evocative illustrations of animals looking up to our shared sky.
Britta uses the technique of collage and printmaking to create her illustrations and made more interesting with cutouts along the way, allowing children to turn a page and peek into what went before, phrases reprised in the next illustration. It adds another level of intent for the reader, already absorbed by the depiction of skyward looking animals. Groups of each species are shown on each page and then to underline the theme, all of them are shown together on the last double page. Readers will not miss the theme of the story that no matter who or what we are we share the same emotions, loves and fears, and so should work together.
Fran Knight
BUY IT ON
Sep 18 2017
Why do we need bees? Katie Daynes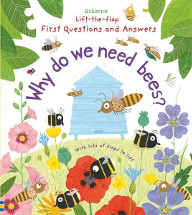 Ill. by Christine Pym. Usborne, 2017. ISBN 9781474917933
Type the title of this book into a search engine and you instantly get millions of results including this video, such is the importance of this tiny creature to the welfare of the world. For without bees to pollinate the plants there are no plants and therefore no food to sustain people or animals.
So it makes sense to make our very youngest scientists and botanists aware of the critical need to protect these creatures as they carry out their important work and this new release in the Usborne Lift-the-Flap series does just this.
Using the question-and-answer format that little children themselves use and which lays the foundations for inquiry-based learning, the role of bees is explored in six double page spreads. Each starts with a key question such as what are bees?; why do we need bees?; and where do bees live? and this is then supported by a more focused question, the answer to which is hidden under a flap. Delicately illustrated but sturdily constructed as a board book, each page offers much to explore and learn, with both the questions and answers in simple sentences and vocabulary that young readers understand. And for those who want to know more Usborne Quicklinks supplies vetted weblinks to satisfy.
Children are curious about the world around them and we know that as parents and teachers we can't always answer all their questions. Helping them understand that there is information to be found in books and their questions can be answered is a first step in the development of their information literacy, and learning that you can dip and delve into books as your interest is piqued and that you can readily return to what you discover is invaluable.
Even though this is a lift-the-flap book, a format normally associated with the very young, it contains a way into non fiction that is perfect for early childhood and could serve as a model for presentation for older students required to investigate the world around them as they learn to pose questions as well as answer them succinctly. An interesting way to introduce keywords, note-taking, summarising, paraphrasing and using your own words!
A book that has riches beyond those given to us by its subject!
Barbara Braxton
BUY IT ON
Sep 18 2017
Sometimes by Jessica Love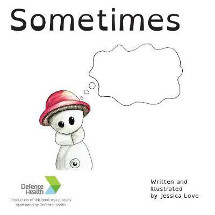 Echo Books, 2017. ISBN 9780995436435
Sometimes when you're gone I wonder why your job seems more important to you . . .than me.
Sometimes when you're gone I get upset and angry when you miss things that are important to me.
Sometimes I look at what you do and I realise that you don't want to leave . . . but by making our lives harder, you are making other people's lives better.
But even with that understanding, it doesn't make the life of a child with a parent in the Defence Forces or any other profession which necessitates prolonged absences any easier.
This is poignant true story based on the 16 year-old author's own experiences of being a child in a military family grappling with the absence of a loved parent. It was her way of telling her dad about her feelings while he was away and her confusion when he came home as the family had to adjust to another routine. In an interview with the Canberra Times she says, "When I showed it to Dad, it wasn't really anything we had discussed before . It was quite a shock to him . . .
But Jess didn't just write this book for her dad, she wrote it for all children of Defence families and in a letter to them she tries to reassure them that their feelings are common and normal, they are not alone and even providing a page for them to write their own ending to the sentence, Sometimes when you're gone . . .
Many of us have taught many children from military families who have struggled with having a parent deployed and there has been an expectation that they will "soldier on" and manage the separation and the emotions that go with it. But this book has a wider application than just military families - many of our students will have parents away, either permanently or temporarily - and in sensitive hands this could be the perfect opportunity to support them by getting them to open up about their feelings; to help them understand that they are not alone and it's normal to feel resentful at times and they don't have to feel guilty; to help them help their parents understand the impact of the separation because often parents are so busy being adults that they forget what it's like to be a bewildered kid.
This is one for all teachers, not just counsellors, and deserves a wide audience among our profession - it has the power to change lives.
Barbara Braxton

BUY IT ON
Sep 15 2017
Rodney loses it! by Michael Gerard Bauer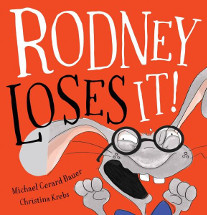 Ill. by Chrissie Krebs. Omnibus, 2017. ISBN 9781742991900
(Age: 4+) Highly recommended. Anger, Drawing. Rodney loves to draw, so much so that he draws just about everywhere. He has a range of pens with which to draw, but one is his special favourite. This pen is so special, that he has given it a name, Penny, and has even been known to kiss Penny, so thrilled is by his favourite pen. One day while sitting at his desk, drawing, Penny disappears. He has lost things before: his bow tie, his rubber duck, his keys but he has always found them. Losing Penny causes him great distress, and the path of his distress is revealed through this very funny picture book.
In rhyming stanzas, Bauer shows Rodney losing it as he searches for Penny without success. Readers will recognise the symptoms: rummaging through everything, looking in the most unlikely places, retracing your steps. But all to no avail, Rodney loses his cool and falls down broken hearted. Bauer cleverly shows readers the steps they should take when trying to find something, and the outcome when the thing being searched for cannot be found. In revealing Rodney's eventual finding of the pen, readers will see sometimes things can be found when another search is made. The story underlines the anger that some feel when something is lost, but also shows its resolution as the lost object is found once calm has been restored.
Krebs' illustrations add another level of humour to the tale, showing Rodney at the highs and lows of the problem of having, then losing something precious. Children will see the problem illuminated before their eyes in illustrations full of life and movement, and learn a lesson from the tale.
Fran Knight
BUY IT ON
Sep 15 2017
The Wee Free Men by Terry Pratchett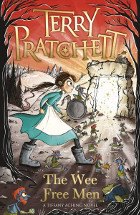 Tiffany Aching book 1, Discworld book 30. Corgi Childrens, 2017. ISBN 9780552576307
(Age: 10 - Adult) Highly recommended. Fantasy, Locus Award for Best Young Adult Novel (2004), Mythopoeic Fantasy Award Nominee for Childrens Literature (2004) (2016), Parenting Book of the Year Award (2003), WH Smith Teen Choice Award (2003). Terry Pratchett needs no introduction. An award winning author, he has excelled himself in The wee free men, which introduces the spirited Tiffany Aching. First published in 2003, this 2017 edition will delight another group of readers with its feisty young witch-to-be and the horde of wee free men in their kilts who help her chase down the wicked queen who has stolen her baby brother.
The wee free men is an absolute delight to read. Pratchett's unique sense of humour is evident on every page as he manipulates words in the best possible way. Not only does he make the reader laugh aloud at some of his descriptions and dialogue, but he also makes the reader think about the power and use of the written word: "Tiffany thought a lot about words, in the long hours of churning butter. 'Onomatopoeic', shes discovered in the dictionary, meant words that sounded like the noise of the thing that they were describing, like 'cuckoo'." pg. 129.
Tiffany is a brilliant young girl who longs to be a witch. Sensible and practical, she knows that it is the right thing to go and rescue her brother even if he is annoying. Granny Aching is her grandmother, a powerful shepherdess, who looked after all the sheep and lambs on the chalk lands and protecting those who don't have a voice and from her Tiffany has learnt about doing the right thing even if it is hard. As the story progresses the reader will grow in understanding with Tiffany as she works out what is important if you have power, sympathize with her as she sorts out her feelings for her brother and laugh at the antics of the wee free men.
This would be an ideal book to give any reader as an introduction to fantasy and lovers of fantasy who have not tried Terry Pratchett's wonderful books before will be in for a wonderful read.
Pat Pledger

BUY IT ON
Sep 15 2017
Oi cat! by Kes Gray and Jim Field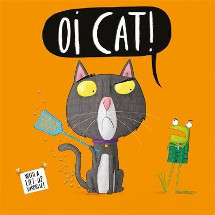 Hodder, 2017. ISBN 9781444932515
(Age: 4+) Highly recommended. Cats, Rhyme. Oi frog and Oi dog, the previous books in this wonderfully subversive series, tell us that the rules are simple: cats do not sit on mats and dogs do not sit on frogs. These rules have come of course, from the frog, so the cat must now find another rhyming word that can be used for him to sit on, the phrase, 'the cat sat on the mat' being terribly passe.
The obvious answer is gnats, but readers will quickly surmise that the cat is upset by the nasty nipping gnats and so must move on to another rhyming word. So the fun and games continue, with rhyming words being offered, but all being found wanting. Lark belongs to shark, and armadillo to pillow, dogs sit on logs, lemurs on streamers, and trolls sit on dolls. The very funny illustrations underline the humour of the text and readers will laugh out loud at the ludicrous pairings offered, as well as the animals and lists of rhyming words.
The dog seems to be most interested in the cat's bottom, causing readers to shriek with laughter, as they well know that dogs and cats do sniff around this particular part of other animal's anatomy, and they will laugh too at the different meanings for the word bat or the pageful of rhyming words for cat. All in all the book offers immense fun for the readers who will predict, laugh and engage with this highly amusing text accompanied by wonderful illustrations. And the lift the flap on the last page will be infectious, readers wanting to take turns at finding out what is beneath the flap. Have your whiteboard marker ready for all the suggested rhyming words which will be offered.
Fran Knight

BUY IT ON
Sep 15 2017
Pip and Houdini by J. C. Jones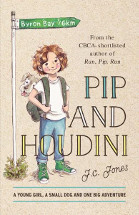 Allen and Unwin, 2017. ISBN 9781760296056
(Age: 8+) Highly recommended. Dogs, Running away, Family. A disarming story of dislocation and reunification will grip readers from the start as they follow Pip and her loyal hound Houdini when they run away from home, after she has upset the applecart once again. Knowing that she has damaged the tenuous relationship she has with her foster family weighs heavily on her but with a nine year old postcard and a name, Cass and a place where her birth mother lived, Byron Bay, Pip and Houdini set off from Sydney.
There follows a road journey where she must survive on her wits, taking chances with people she meets and always being solicitous to the needs of her dog. Mid primary people will love reading of her adventures, sneaking onto a train, keeping Houdini hidden, busking on the streets, finding money for a little food and water for the two of them, avoiding the police who are searching for her.
Children will be able to follow her journey stopping at various points along the way, sigh with her when the train is delayed, and be angry when the young woman she has befriended, steals her remaining money.
But in meeting a lone surfer and warning him of the shark nearby, she finds a friend, and piecing together the clues from her memorabilia with the information given her about her mother, Cass, she is able to find some of her family, family that in the main were unaware of her existence.
The loving relationship between Pip and Houdini is wonderfully drawn, and children will melt reading of the two of them avoiding contact with others in case they are found out. In meeting the young woman with a guitar she does not play, readers will hear of some of the tricks of the trade that reality shows use to engage their audience, and the effect these tricks have on the participants.
A wonderful road story of hope, of not finding what you are looking for but finding something else almost as good, leaves the tale of these two delightful characters open for a third outing, which children will anticipate with real pleasure. The first story of Pip and Houdini, Run, Pip, run, was shortlisted in 2016 for the CBCA Book of the year, and won the Readings Children's Book Prize, 2016.
Fran Knight
BUY IT ON
Sep 15 2017
The City of Secret Rivers by Jacob Sager Weinstein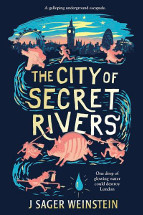 Walker Books, 2017. ISBN 9781406368857
(Age: 9+) We stood there for a moment, the drop of water and I. And then we both leapt at once. Hyacinth Hayward has accidently unleashed magical powers flowing under London. The shambling Saltpetre Men have kidnapped her mother and the Toshers want to trap her in the sewers. Then a giant pig in a swimsuit, Oaroboarus, insists on an underground tea party, but Lady Roslyn has other plans. The clock is ticking and Hyacinth must figure out who to trust.
For those children who like books such as A Series of Unfortunate Events, where good needs to conquer evil, this is a must read for them. It is easy to read with the text being relatively large. Weinstein has written a book that is extremely imaginative with clever little twists and turns. It is full of action, humour and descriptive language that truly brings alive the repulsive stench associated with sewers. Historical places in London have been cleverly interwoven throughout the storyline.
Hyacinth is a strong lead character, ably supported by Lady Roslyn. Their friendship strengthens as the story unfolds.
Themes such as friendship, perseverance and adventure run strongly through the book. This book will sit nicely alongside other fantasy books on the shelf and is the first in a trilogy. Suitable for ages 9 and up.
Kathryn Schumacher
BUY IT ON
Sep 14 2017
The explorer by Katherine Rundell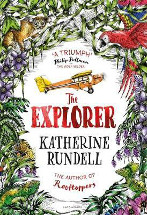 Bloomsbury, 2017. ISBN 9781408885284
Highly recommended. Like a man-made magic wish, the aeroplane rose into the sky. It did not stay there for long. Fred has always dreamed of becoming an explorer, of reading his name among the lists of great adventurers. But when his tiny plane crashes in the Amazon jungle on his way back to England, his dreams suddenly become all too real. Fred, Con, Lila and Max are stranded without hope of rescue, and their chance of getting home feels terrifying small. The pilot dies and the children are forced to survive alone for days until Fred finds a map that leads them to a ruined city and a secret. Except, it seems someone has been there before them...
This book was fast-paced, warm and descriptive. Themes such as resilience, survival, adventure, hope and friendship are developed as the book unfolds. The words used by Rundell allow you to feel the heat of the jungle, taste the unusual foods including tarantula eggs, share the highs and lows the children experience and see friendships develop between children who are all extremely different. It would make a fantastic read aloud, but it is not for the faint hearted as it is 399 pages, but the text is relatively large. I can imagine a class completing some amazing visualisation activities based on the rich, descriptive language Rundell uses. This is a must-have in the library.
Kathryn Schumacher
BUY IT ON
Sep 14 2017
How to resist: Turn protest to power by Matthew Bolton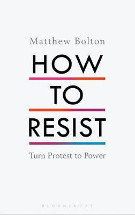 Bloomsbury, 2017. ISBN 9781408892725
(Age: Secondary - Adult) Recommended. Matthew Bolton was Citizen UK's lead organiser for the national Living Wage Campaign whereby different community groups united to win the 'national living wage' for low-paid workers. In this little pocket-sized book he shares what he has learnt about campaigning on social justice issues - 'practical tools and principles to show how people can get together and make change happen'. He puts great emphasis on democratic participation, helping people to be effective citizens. It would be really useful for students of Civics and Citizenship to read this book, to go beyond the feel-good protest march, and gain the sense of empowerment from actually uniting and achieving goals through well-planned strategies.
History students would also gain greater insight into civil rights movements of the past. Bolton reveals how the famous incident where Rosa Parks refused to give up her seat on the bus was not just frustration at the end of a long hardworking day; Rosa had been active in the civil rights struggle for ten years before the bus action. But at the right moment her action captured national attention.
Similarly the strategy of 'action in the provocation of overreaction' is illustrated by the events of Selma 1964-65. Selma was chosen by Martin Luther King and other key civil rights leaders precisely because of its reputation for violent conduct towards African Americans. The violence directed towards a peaceful march at Selma drew national attention and became impossible to ignore.
Other strategies are revealed in the book - with lessons learnt from the failures as well as the successes. There are many useful tips, but none more useful than the Iron Rule - shift from trying to solve people's problems for them, to building the capacity of people for collective action and political change. It is a great lesson. I think all readers could learn something from this guidebook.
Helen Eddy
BUY IT ON
Sep 13 2017
Leaf by Sandra Dieckmann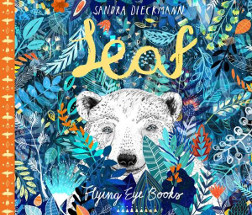 Flying Eye Books, 2017. ISBN 9781911171317
(Age: 4+) Highly recommended. Polar bears. Climate change. Hope. Difference. An animal floats into the bay, and finds a cave to shelter in. The animals all stay away from him, they have never seen anything like him before, and when he goes out into the forest and eats leaves, they run away. The other animals view him with suspicion, concerned that he is different. Everyday the creature they have called Leaf, is discussed amongst the other animals. One day they see him covered in beautiful leaves running through the forest. He leaps off the edge of the cliff but falls into the water, retreating to his cave. When he attempts this again and is lying exhausted on the shore, the crows decide to talk to him. He tells them that he is a polar bear and has drifted a long way from his home and desperately wants to go back. The crows work out a way that they can take the animal back to his own environment and the other animals decide to tell his story, so that no animal would ever get lost again.
Children will love hearing of the polar bear's plight and the way the animals are at first suspicious of something so different, relating it to their own classroom or neighbourhood, where someone new is not initially welcomed. The story of the animals working together to help the polar bear will encourage them to feel for the newcomer, and marvel at the way things can be resolved.
This story of the outsider is beautifully illustrated with brightly coloured detailed drawings that will entice younger readers to look more closely at the pages to see what they can see.
Fran Knight
BUY IT ON
Sep 13 2017
The secret garden and other stories
Usborne Illustrated classics. Usborne, 2017. ISBN 9781409586562
Usborne have added another volume to their stable of illustrated collections that bring us the myths and legends that have been shared with and enjoyed by children throughout the generations. This collection includes The secret garden, The railway children, The wizard of Oz, Black Beauty, Little women and Heidi, all based on the original stories and beautifully illustrated to entice the young reader ready to take their reading in a new direction.
There are some stories that have endured over time for very good reasons and this collection is one that celebrates some of those that continue to be published in full so many years later. They are the sorts of stories that grandparents and even great-grandparents remember fondly and love to give, so these abridged versions are the perfect introduction to the longer, original stories. Apart from just being a good read, they give 21st century children a glimpse into the lives of children of the past, to a time when life wasn't dominated by screens and technology. Who wouldn't be tempted to explore the mysteries of Misselthwaite Manor, wander down the yellow brick road or be afraid of going from luxury to poverty overnight?
As well as being an essential addition to the collection, this could be one to flag in your suggestions for Christmas purchases for parents!
Barbara Braxton
BUY IT ON
Sep 13 2017
Garcia and Colette go exploring by Hannah Barnaby and Andrew Joyner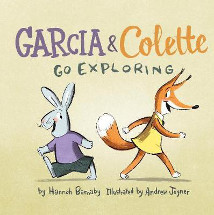 HarperCollins Children's, 2017. ISBN 9781460754306
Garcia the Rabbit and Colette the Fox cannot agree on where they want to go exploring - Garcia is fixated on space while Colette wants to see the sea. With no agreement in sight they agree to go their separate ways. Garcia builds a snazzy, silver rocket while Colette makes a gold and glorious submarine. Packing peanut butter sandwiches, a notebook, a pen and their lucky charms, each heads off on their own adventure. But is exploring new and exciting places all that much fun when you don't have your best friend by your side?
Cleverly written and illustrated so that each character remains connected despite their physical separation, this is a charming story of friendship and compromise that will appeal to a broad range - those who love the sea and those who love space. Is there a middle ground and how can it be reached? A great way to introduce the art of negotiation and seeking win-win solutions, while younger children can have fun contributing to murals of what each friend saw on their travels.
Barbara Braxton
BUY IT ON
Sep 13 2017
Literature to Support the Australian Curriculum Book 2 - Annotated Lists of Fiction and Poetry by Fran Knight and Pat Pledger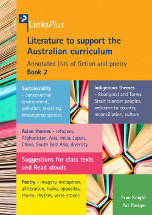 Pledger Consulting
, 2017. ISBN 9781876678531
Highly recommended. This book contains literature to support the Australian Curriculum. It contains annotated lists that cover Asian and Indigenous themes, Sustainability, Poetry, Suggestions for class texts and read alouds for both Primary and Secondary students.
I would highly recommend this useful text for both educators and teacher librarians. It is extremely easy to use with each separate subject being divided up into year levels - entry level - Year 3, Years 4-6 and Years 7-10.
Each annotation contains the publisher and year of publication, making it easy to track down the resource. There is also a brief description/blurb of each text.
Popular picture books and both junior and senior novels are listed. For ease of use, all entries are listed alphabetically according to authors. To assist this, there is also an index of authors.
Each section contains new and recently published texts where you will find your old favourite authors and be introduced to a number of new ones.
It is pleasing to see the inclusion of a diverse range of novels and picture books written by Indigenous authors and illustrators in the Indigenous section. Themes such as diversity, celebration, reconciliation, art and culture are all represented.
I was impressed with the poetry section as this is often an area we are asked for texts by teachers. We find it difficult to find 'good' poetry books to purchase so we will certainly be using this as a starting point to update our collection.
Kathryn Schumacher
BUY IT ON
Sep 13 2017
Paper cranes don't fly by Peter Vu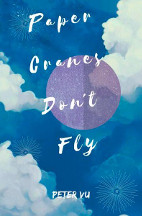 Ford Street Publishing, 2017. ISBN 9781925272765
(Age: 15+) Highly recommended. Knowing someone with a terminal illness can be a challenge at any age. But when it's your best friend and you're just finishing high school? It can change everything.
Adam has been sick ever since he was little. A benign brain tumour- but a tumour none-the-less. At any point it could become cancerous and there is only so much that the doctors can do. But Adam isn't just the sick kid at school. He is best friends with Tess and Ambrose - a friendship that was strong enough to last from day one, survive the diagnosis, and resist crumbling when Adam attended a different high school. Together they are invincible. Adam is invincible. But their greatest challenge is yet to come. Adam is readmitted to hospital during exam season. Another surgery. Routine. During this time he also makes another friend, a fellow patient by the name of Rachael who could almost compete with Tess and Ambrose for his affection. Hospital days are slow days, yet between Rachael, Tess, and Ambrose, Adam is kept busy. Despite his cancer Adam seems to be doing well. He is lucky to have such strong friendships and his family's support. As it must, disaster strikes and Adam and his friends must come to terms with what his illness means.
This is a very powerful novel. Vu gives us some important life lessons about love, friendship, and appreciating the day to day. I would highly recommend for people fifteen and up, however, the subject matter may be distressing and the book will probably break your heart.
Kayla Gaskell, 21

BUY IT ON
Sep 13 2017
Gap year in Ghost Town by Michael Pryor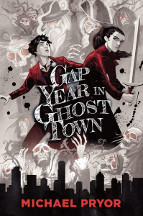 Allen and Unwin, 2017. ISBN 9781760292768
(Age: 13+) Highly recommended. Ghosts. Humour. Melbourne. Anton Marin lives with his father in Melbourne. The Marin family own a small bookstore and he has taken a gap year, trying to decide if he will join the family business of ghost hunting. He has the ability to ease a ghost's path to the next world. Rani Cross is a member of the Company of the Righteous, and she doesn't ease a ghost's passage to the other world, rather she uses her sword. When they meet, they don't agree about how ghosts should be handled but Melbourne is under siege with a huge increase in the number of violent ghost manifestations and these supernatural forces have to be controlled. With his father and friend Bec helping out, Anton joins forces with Rani and the four of them work to protect the people of Melbourne.
The setting of Melbourne will thrill readers who come from Victoria and other readers will be fascinated by glimpses of this interesting city. There are snippets of information and descriptions that bring the city to life and it provides a perfect background for the ghostly appearances that take place.
There is action galore for those who like a fast paced read, but what I enjoyed most was the snappy humour of Anton's very amusing dialogue and the platonic friendship between him and Bec and the friendship that flourished between Bec and Rani. It was refreshing not to have the inevitable love triangle in a book and the characters were interesting enough to keep the reader engrossed as the group battled the ghosts.
There is plenty of scope for more books to follow Gap year in Ghost Town and I look forward to reading about this intrepid group working together to battle any danger that may come their way from ghosts.
Pat Pledger
BUY IT ON
Sep 13 2017
Third Witch by Jackie French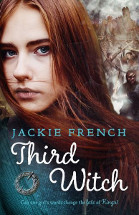 Angus and Robertson, 2017. ISBN 9780732298531
(Age: 14+) Highly recommended. Themes: Macbeth; Shakespeare; Power and ambition; Royalty. Shakespeare's Macbeth is an incredibly powerful story of the insidious impact of uncontrolled ambition, drawing the main characters into a maelstrom of madness with their moral compasses twisting in response to the choices they have made; choices based on the 'counsel' of witches. Jackie French has woven a tale into this Shakespearean drama, with her central protagonist, Annie Grasseyes, acting as the Third Witch. This simple village girl now works as Lady's maid and companion to Lady Macbeth and at the behest of her employer acts as the prophetic 'Third Witch' in response to the powerful woman's desire to spur the ambition of her husband. The slow downward twisting of the central characters of the Macbeth story are then revealed as the words spoken play out in their lives. The witches are portrayed as 'actors' and speakers of unwittingly persuasive words, rather than as supernatural participants who can influence the future.
Jackie French has very cleverly created a back story and context for the original dramatic text setting (while being very conscious of its lack of historical veracity due to the influence of James I's views on the dramatist's work). The original Shakespearean words are woven into the novel with recognisable phrases scattered appropriately through the plot. There is also a romantic tangle for Annie. Through this all, the original text is honoured and the book would be a fantastic read for students who struggle with the complexity of the Shakespearean language but want to understand this critical text. (Although they should always read the original text first!) Jackie French adds notes at the end of the text explaining several recipes and commenting on some of the social complexities and motivations of the characters, as well as her own motivations and love of Macbeth.
A very powerful book. Highly recommended for age 14+ (Some understanding of Macbeth would add appreciation to the reading of this novelisation.)
Carolyn Hull

BUY IT ON
Sep 13 2017
Poe stories and poems: A graphic adaptation by Gareth Hinds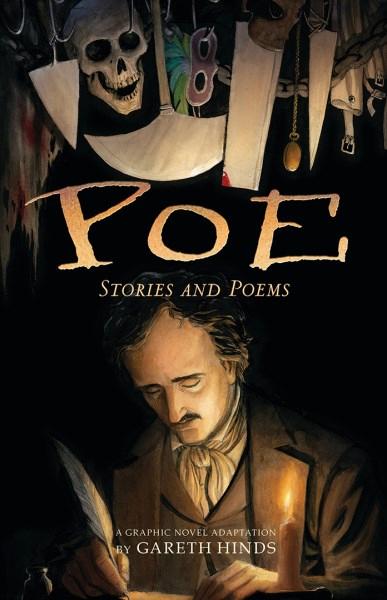 Candlewick Press, 2017. ISBN 9780763681128
(Age: Secondary) Highly recommended. Themes: gothic horror, death, disease, insanity, loss, confinement. Edgar Allan Poe's classic gothic horror stories and poems remain popular, particularly
The Raven
1845. In this collection of four story adaptations and three poems Hinds is able to amplify the horror and dread that infuse the American master of suspense's stories and the sense of sadness and loss of the poems. Each has its own rendered style and period with darkness and light masterfully used to complement and interpret the words. In the
Masque of the Red Death
a prince seeks to escape the horror of the plague which is ravaging his people by sealing himself and his court in a secure abbey. He holds a masked ball in a series of colour themed rooms, brilliantly rendered, until the inescapable red death enters and all colour drains away. Darkness pervades
The Pit and The Pendulum
as the protagonist in white outline, feels his way in complete darkness until a dim light reveals the horror of his situation. Trapped and immobilised under a descending blade very realistic rats surround him. The suspense as the swishing blade descends ever nearer is sustained and terrifying.
The Raven
is pencil rendered in monochrome, incorporating some images from the preceding stories while sinister images appear in the ever present raven's feathers.
The narrator is depicted as Poe, whose life, outlined in the Author's Note at the end of the book, seems to have been as remarkable as his writings and whose death mysterious. A visual key to Poe's recurring motifs is provided and discreet footnotes explain archaic words making the works accessible to all lovers of the macabre. Succinct notes on each piece at the end of the book wrap up this deceptively slim volume.
Highly recommended for making complex material more readable, being a bridge for students first encountering the classics, a great introduction to Edgar Allan Poe.
Sue Speck
BUY IT ON
Sep 12 2017
The Goldfish Boy by Lisa Thompson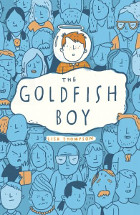 Scholastic, 2017. ISBN 9781407170992
(Age: 10-14) Highly recommended. 'Goldfish Boy' is the nickname given to Matthew by one of the visiting grandchildren of a neighbour. Matthew is in his own form of goldfish bowl, staying in his bedroom night and day, staring out of the window, looking at the goings-on in his neighbourhood.
His OCD behaviour has made it impossible for him to attend school or join in any family activities. He records all the actions of the people who live in his small street in notebooks. They are all everyday occurrences until toddler Teddy disappears from his grandad's front garden. Who has taken him and can Matthew solve the puzzle?
Matthew is helped by a young neighbour, Melody Bird, who insists on supporting him in his quest. She has her own issues and problems (as do all the street residents) but her own determination and acceptance of Matthew creates a friendship between them.
Lisa Thompson has made Matthew a believable character who struggles with a family tragedy by keeping germs at bay. He is flawed but likable and his humour and observations of others adds a lightness to her writing.
Bullying, kidnapping, OCD, loneliness and personal loss are all issues discussed, as the mystery of the missing child is slowly unravelled.
The cover by Mike Lowery shows Matthew 'alone' in a crowd of his neighbours. Its restricted pallet of colours works well and demonstrates this book is not a mainstream mystery story.
This was an engrossing read and the nearly 400 pages of story passed very quickly. A very accomplished first novel by Lisa Thompson. I highly recommend this book for students aged 10 to 14 years old.
Jane Moore
BUY IT ON
Sep 12 2017
Theatre of life: photographic portraits by Alex Frayne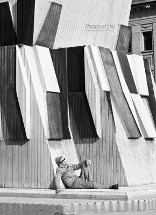 Wakefield Press, 2017. ISBN 9781743054949
(Age: Secondary - Adult) Highly recommended. This is a fascinating book. The collection of photographs truly capture the 'theatre of life' - with expressions, fleeting moments, iconic scenes, and portraits that make you gaze again at the character expressed in the lines and shadows. The moments of light and shade, the framing of a particular shot, make you see the beauty or the uniqueness of each picture. I especially loved the intimacy of the mother and daughter at the bus stop, the woman descending the stairs, the blindfolded lady in brilliant yellow holding a chicken in her arms, - so many unique glimpses of life. The character portraits are stunning - with emotions etched in wrinkles or the particular slant of the head, and the look in their eyes, from the sad poignancy of 'Intersex Angel' to the visionary thoughts of Samak Fallah Aka 'The Thinker', the humour and warm of The Rockbusters, and the curiosity and wonder of the child Alice - all draw you in to contemplate the individual people and their lives.
When you close the book, some images will remain with you. For me it was the shock of the scene in 'The System' of an amputee lying face down on concrete next to a plastic bowl, with a naive idyllic scene painted on the locked cupboard behind him. Other scenes are rediscovered when you return and open the book again.
These aren't staged photographs, they are glimpses of people living their lives, all around the world. Each is accompanied by a few notes - some about the person or context, adding further detail or sharing an added insight, others are notes about the camera and techniques employed, revealing some of the magic and the craft of photography. The book will be of interest to the artist and the photographer, and to people who love stories - for there are so many amazing stories expressed in those faces, one can only gaze and imagine.
In schools I can imagine this book being a source of inspiration for both Art and photography classes as well as for English creative writing.
Helen Eddy
BUY IT ON
Sep 12 2017
On the night of the shooting star by Amy Hest and Jenni Desmond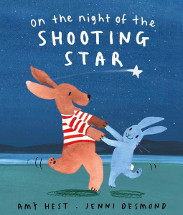 Walker Books, 2017. ISBN 9781406377330
(Age: 4+) Highly recommended. Friendship. Borders. In this fable for modern times, Dog and Bunny live next to each other. They carry on their own lives, doing what each does: Dog loves to knit and sits in the garden knitting and listening to his radio, while Bunny nibbles all day in the long grass on her side of the fence.
The beautiful illustrations show us the two lives, living next door but not interacting at any time. Each wonders what the other is doing but no one speaks. Each wonders why the other has no friend, but does nothing about it. Until one night a shooting start passes overhead. It is gone in an instant, but as each animal retires to their own houses, they think about what they have seen.
They resolve to do something, and Dog takes a plate of biscuits to the fence, while Bunny brings out cocoa.
Once the ice is broken, the two become inseparable friends, spending each day with each other doing the things they love to do and doing them together.
Readers will understand the message of the book immediately. It is a situation they will all know well, finding new friends, meeting new people, being reticent to make the first move. All sorts of discussion will emanate after reading this book, and children will eagerly scan the pages for detail about the lives of Dog and Bunny shown in the witty illustrations. And of course, talk about shooting stars, and how they occur and when they can be seen. Wikipedia has a concise definition of a falling or shooting star, and there are some photos of them on the internet.
Fran Knight
BUY IT ON
Sep 12 2017
Toto: the dog-gone amazing story of the Wizard of Oz by Michael Morpurgo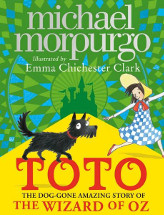 Ill. by Emma Chichester Clark. Harper Collins, 2017. ISBN 9780008134594
(Age: 8+) Highly recommended. When I had my sixth birthday my older sister gave me an illustrated copy of The Wizard of Oz and I immediately fell in love with the story. This poor book (which I still have) was re-read many times and is now looking a little shabby but is still treasured deeply.
How absolutely marvellous to have one of our greatest modern storytellers bring a fresh new take on this now 'antique' tale - first published in 1900 by L. Frank Baum. Michael Morpgurgo has conceived a wondrous version which re-tells the story from the point of view of Toto, Dorothy's courageous little dog.
Now an old Papa dog, Toto delights in telling the young pups stories and of course the favourite is the story of his and Dorothy's adventures in the Land of Oz. Most of the pups get bored with the endless reminiscences but not the youngest who laps them up especially the Oz story no matter how many times he hears them.
Toto's voice is completely as one might imagine from a little Kansas country dog and this re-tell keeps closely to the original story which is especially satisfying. Morpgurgo also keeps closely to the language style of the original while still making it accessible to modern readers.
Colourful and contemporary styled illustrations give this book a really attractive and vibrant look which will thoroughly engage young readers for what might be their first introduction to the Oz stories. They will definitely love the 'emerald' foiled highlights on the cover!
Much as I love my original even after so many years this was simply a joy to read - as indeed are all Morpurgo books!
Highly recommended for readers from around 8 years upwards!
Sue Warren
BUY IT ON
Sep 12 2017
Ready, steady, hatch by Ben Long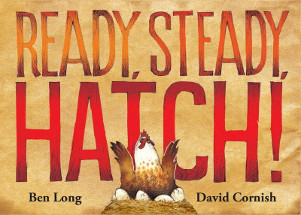 Ill. by David Cornish. Ford Street, 2017. ISBN 9781925272536
Way down yonder in the pumpkin patch, ten little eggs were beginning to hatch. As they did, they danced and twirled - it was time to go and see the world. But the last little chick gets distracted by a large cherry, unseen by the others who marched on to meet their mother. But she was very concerned when she counted them because that morning there were ten and now there were only nine! So with Mother Hen in front they set out on a hunt to find the missing chick. But no matter how or where they searched, they had no luck until...
This is a rollicking romp in rhyme which will appeal to young readers as they enjoy the language, the search and the charming illustrations which add so much action and sound you are drawn into the story. The rhythm of the rhyme is reinforced as the chicks march to the musical notes and then drum on logs and stomp their feet trying to bring the little one out of hiding.
There is something about the theme of Chooks in Books that has always appealed, perhaps because it lends itself to lots of research such as investigating whether chickens are the only creatures that start life as eggs as well as lots of artwork for there are so many ways to create chickens to build a class mural to retell the story, surround with chook facts, and build a wall of Chooks in Books stories. Imagine how much easier the concept of 10 and ordinal numbers will become as the children identify the subtle differences between the line of chooks and then line themselves up like the chickens and march or run or creep around to the beat of a drum.
Ben Long and David Cornish have created a story that will capture the attention of little ones and reaffirm their understanding that there is much fun to be had between the pages of the book.
Barbara Braxton
BUY IT ON
Sep 04 2017
Literature to support the Science Curriculum Foundation - 7 by Fran Knight and Pat Pledger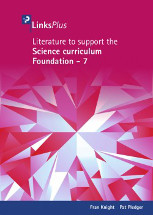 Pledger Consulting, 2016. ISBN 9781876678470
Following the same layout as some of their previous Australian Curriculum publications, the authors provide lists of titles for the various year levels from Foundation to Year 7. They use the headings that exist in the Science curriculum, including Biological Sciences, Chemical Sciences, Physical Sciences and Earth and Space Sciences. They supply useful lists of resources that suit the year level content in each strand. The various ReadPlus reviewers have highly recommended many of the titles listed and the annotations give one a great overview as to the content of each book. This document will join the other LinksPlus publications as a major time saver for teachers planning their overviews for Science, and for librarians putting together bulk loans of resources for classroom teachers. Given that most of the books listed are recent publications of less than ten years of age, they should be readily accessible in most libraries.
The introduction contains a reminder to the teacher or librarian to 'read the books to judge their suitability for their particular clientele and school situation before using them in the classroom.' A selection of related websites are also provided, along with a suggestion that the ReadPlus database also exists to save time when checking for up to date information on the titles recommended. There is a comprehensive index, containing the authors and general subject headings which appear within the pages of this publication.
This is another 'must have' title for every school library and will prove to be a major asset, supporting any time poor teacher or librarian keen to provide useful resources for teachers wishing to use fiction titles as an integral part of their science curriculum.
Jo Schenkel
BUY IT ON
Aug 27 2017
Literature to support the Australian curriculum: Annotated lists of fiction and poetry Book 2 by Fran Knight and Pat Pledger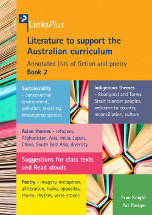 Pledger Consulting, 2017. ISBN 9781876678531
Recommended as a teacher reference for both Junior and Senior School libraries and English faculties. This teacher resource book makes the book selection work of Teacher Librarians and English teachers much easier. It contains summaries of books organised under themes consistent with the Australian curriculum: Asian themes; indigenous themes, sustainability themes, poetry books, books suitable for class sets and read alouds.
Within each heading, books are also grouped under 3 student year level groupings: reception to year 3; years 4-6 and years 7-10.
Summaries indicate if teacher notes are available on the publisher website.
Most titles have been published within the last 5 years and there is a useful author index.
While the summaries are brief, there is sufficient for teachers to decide whether to seek further information on a title. According to Pat Pledger, Editor 'Most have been recommended by reviewers for ReadPlus and reviews are available at http://www.readplus.com.au/reviewsindex.html'
Ann Griffin
BUY IT ON
Aug 13 2017
Literature to support the Australian curriculum - Annotated lists of fiction and poetry Book 2 by Fran Knight and Pat Pledger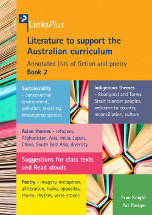 Pledger Consulting
, 2017. ISBN 9781876678531
Teacher reference. Highly recommended for educators and teacher librarians. Subjects: Fiction, Books and reading, Poetry, Anthologies, Annotated bibliography. Children's literature specialists Fran Knight and Pat Pledger continue to provide teachers, educators and librarians with excellent reference resources that support the Australian curriculum. This LinksPlus annotated bibliography highlights popular picture books, junior and senior novels focused on Asian and Indigenous themes, Sustainability, Poetry, class novels and texts to read aloud. These are separated into year levels from Entry level to Year 3, Year 4 to Year 6 and Year 7 to Year 10.
Set out in an easy to read format the listings presented are in alphabetical order of the author. A comprehensive index of authors is included as well. Each section includes new and recently published resources with both familiar and new authors included.
Rosanne Hawke's teenage novels set in Pakistan and Kashmir,
Shanana
and
Peacock Blue
, are listed in Asian themes Year 7-10, and Hazel Edwards junior novel
Hijabi Girl
is included in the Entry level to Year 3 section.
Bronze bird tower
the latest in the Carole Wilkinson's historical fantasy
Dragonkeeper
series still proves to be popular with students in Year 4-7.
Sustainability is a key priority in the Australian curriculum looking at systems, world views and futures. Here there are a broad range of resources listed; there's Jeannie Baker's
Circle
a migratory story of the godwits' journey from Alaska to Australia, and the senior novel set in a world affected by climate change where 90% of women have died
The road to winter
written by Mark Smith.
A diverse range of novels and picture books written and illustrated by Aboriginal authors and illustrators are incorporated in the Indigenous themes section. Diversity, celebration, reconciliation, art and culture are themes presented here, from the bold picture books of Bronwyn Bancroft to Ambelin Kwaymullina's Tribe series for older readers.
The Poetry section includes anthologies, humourous poems, verse novels and traditional styles. The Class novels and texts to read aloud sections include current picture books and novels that explore a wide range of themes, genres and literary styles.
Literature to support the Australian curriculum - Annotated lists of fiction and poetry Book 2
is a valuable resource for educators, curriculum specialists and teacher-librarians.
Rhyllis Bignell
BUY IT ON
Feb 02 2017
Literature to support the Science curriculum Foundation -7 by Fran Knight and Pat Pledger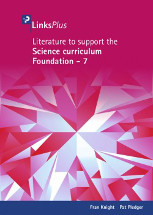 Pledger Consulting, 2016. ISBN 9781876678470
Highly recommended for educators. Subjects: Science curriculum; Fiction; Annotated bibliography. Fran Knight and Pat Pledger continue to write first-rate reference tools for teachers in primary school education, which focus on key curriculum areas. This resource links popular picture books, junior and senior novels and non-fiction books with the Australian Science curriculum. Each book listed has a review available on the ReadPlus online database.
Set out in an easy to read format, each year level and scientific topic is explored with listings presented in alphabetical order of the author. A comprehensive index is included as well.
Pamela Allen, Jeannie Baker, Phillip Gwynne and Elizabeth Honey's popular picture books support the Foundation Biological Sciences strand and the Inquiry Skills. Recent publications such as Aleesah Darlison's Spider Iggy and Roland Harvey's On the River provide up to date scientific information in a story format. The scientific and geographic books by writer and researcher Peter Gouldthorpe provide an excellent foundation for Year 6 students investigating Earth and space sciences. Content included covers Aboriginal perspectives and presents books that introduce a scientific worldview.
Fiction is an invaluable tool for introducing a new science subject, for encouraging investigation, for introducing keywords, setting up a word wall and stimulating creative inquiry and research skills.
Literature to support the Science curriculum Foundation -7 is a significant resource for educators and teacher librarians and for supporting STEM programs.
Rhyllis Bignell
Editor's note: The book is available here.

BUY IT ON
Feb 21 2016
Fiction gems: Recommended fiction lists for Upper Primary and Lower Secondary students by Fran Knight and Pat Pledger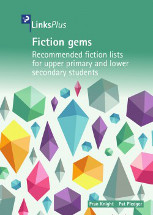 Pledger Consulting, 2016. ISBN 9781876678456
Teacher reference. What a great resource for those charged with purchasing or recommending reading material for Upper Primary and Lower Secondary students. The Middle School aged reader can have specific interests or reading demands and keeping on top of current and favourite books can be very difficult without some help from trusted reviewers. This book lists Fiction recommendations within a number of categories; some books are indicated for more mature readers, but most are well-suited to the 10-15 aged reader.
Each book is summarised with a 1-2 sentence brief overview, so it is easy to peruse for suggestions for readers. More complete reviews are accessible via the ReadPlus review blog index.
This is a book that would be a good resource on the Librarian's shelf.
Carolyn Hull
BUY IT ON